Hi there! As a seasoned marketing specialist working in the vibrant hospitality industry of Bali, I pride myself on staying ahead of the curve and keeping my finger on the pulse of the latest trends and upcoming events that await in this tropical paradise.
Bali is a popular tourist destination all year round, but some special events make it even more special! 
Here are some of the most anticipated upcoming events in Bali in 2023:
Sanur Village Festival: 19-23 July
The annual Sanur Village Festival aims to facilitate and develop the Sanur community's creativity and achieve creativity and tourism synergy. These festivals range from music festivals, UMKM bazaars, food festivals, clothing, art and culture attractions, yoga, and other creative economic activities.
Gianyar Kite Festival: 22-23 July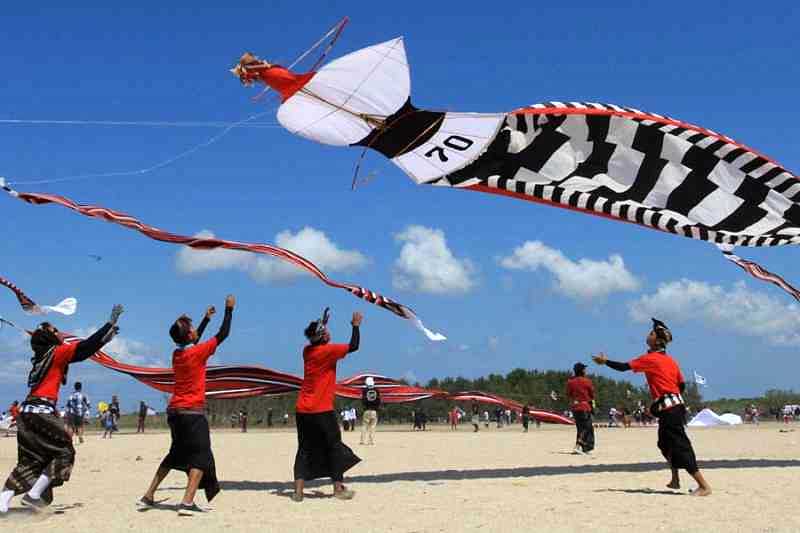 An annual event held in Gianyar, Bali, Indonesia. The festival is held in July, and it features competitions in a variety of kite-flying categories, including traditional Balinese kites, giant kites, and kites with special features. The Gianyar Kite Festival is a great way to experience the traditional culture of Bali and enjoy the beauty of the Gianyar countryside.
Ubud Village Jazz Festival: 28 - 29 July
Ubud Village Jazz Festival is a music festival situated in the artistic surroundings of Ubud Bali, Indonesia.
This 10th Year Celebration is marking a Come-Back-with-Full-Force with a diverse and talented lineup of musicians from all around the world bringing you on a journey of musical exploration and discovery. Among them are the very well-known and respected Kevin Hays Trio (USA), along with Pere Bujosa Trio (Spain), Henk Kraajeveld Quintet (The Netherlands), MANNA Trio featuring Indonesian bass living legend Mates, Rio Moreno Latin Combo (Indonesia), Amanda Lee (Singapore), SCAT C.A.T (CanadaIndonesia), Wilson Quah (Malaysia-Indonesia), Second Brain (France), Yuri Mahatma & Astrid Sulaiman (Indonesia), and the young and gifted pianist Nadine Adriana (Indonesia), to mention a few.

The Lovina Beach Festival is held in Kalibukbuk Beach on the northern part of the island near Lovina.
It is a 3-day festival that highlights the traditions and cultural practices of the Balinese people. An opening ceremony opens the event with a parade that features music and dance. Other highlights of the festival are the handicraft exhibitions, photography contests, flower offerings, bull race, puppet performances, and plenty of live music. You will find plenty of food and drink stalls serving local Balinese cuisine and some traditional favorites.
Boiler Room Potato Head: 21-22 July
Boiler Room returns to Potato Head with a lineup of underground dance heavyweights for their only Bali show of 2023.
Among the many acts set to step up to the turntables over two days and nights of music are The Blessed Madonna, Overmono, Baba Stiltz, Thomas Bullock, and Suze Ijo. With sounds ranging from authentic house to deviant disco, dream pop to future rave, welcome all these inspired selectors and more to Potato Head for two days of starry-eyed hedonism.
Tyga - Atlas Beach Club: 5 August
Celebrate the first anniversary of Atlas Beach Club, the biggest beach club in the world and the biggest nightclub in Bali, with a special performance by the world-famous rapper TYGA. Don't miss this chance to party with the hottest music, drinks, and vibes at the stunning beachfront venue in Berawa, Canggu. Book your tickets now on Megatix Indonesia and get ready for an unforgettable night of fun and excitement.
The ANOC World Beach Games : 5 – 12 August
Bali is super excited to host the second-ever World Beach Games in August 2023. Tickets are on sale soon, so be sure to keep an eye on the ANOC World Beach Games website.
There will be over fifteen sports on show, with athletes from all around the world. Sports include the aquathon, beach soccer, beach wrestling, water polo, and of course, beach volleyball. Teams-Play-Beach-Volleyball-Sport-At-Olympic Games So far, over 1,500 international athletes have qualified for the competitions, and throughout the games, there are 45 medals events up for grabs.
Maybank Marathon 2023 : 27 August
In the spirit of a decade of Maybank Marathon commemoration, in 2023 Maybank Indonesia is proud to organize the 'Elite Label' Maybank Marathon 2023 road race label event on 27 August 2023 at Bali Safari & Marine Park, Gianyar, Bali.
The Maybank Marathon 2023 in Bali will compete in the marathon (42.195 km), half-marathon (21.1 km) and 10K categories.
Ultra Beach Bali 2023 : 20-21 September
Ultra Beach Bali is back for its 5th edition! Get ready to soak up in the sun, dance to the beats, and create unforgettable memories.
Join us to embark on a tropical adventure like no other at @locca_bali on September 20-21
Ubud Writers & Readers Festival 2023: 18-22 October
Held annually in Ubud, the cultural heart of Bali, the Ubud Writers & Readers Festival is Southeast Asia's premier literary gathering. With over 150 of the world's most captivating writers, thinkers, and performers, our festival promises five days of engaging conversations, spirited debates, and a joyful celebration of literary culture. From author discussions and cultural performances to market tours and late-night galas, immerse yourself in a world of inspiration and creativity in the enchanting surroundings of Bali.
Pemuteran Bay Festival: 18-20 November
Get ready to dive into the spirit of conservation and community at the Pemuteran Bay Fest, a 3-day festival that's all about celebrating coral reef conservation. Join us from November 18th to 20th, 2023, as we bring the world together for an unforgettable event.
Experience a rich tapestry of culture and music performances, get your heart racing in the nature fun run, savor delectable delights at the food bazaar, contribute to reef restoration efforts, find your inner zen at the yoga festival, and so much more!
FESTRIUM 2023: 25 November
Discover the ultimate Art Festival and Music Collaboration Performance at FESTRIUM 2023. FESTRIUM 2023 promises to be an epic celebration of creativity, featuring a dynamic fusion of visual arts, music, and performance. Imagine strolling through vibrant art installations, getting lost in captivating live music collaborations, and witnessing mind-blowing performances that will leave you in awe.