Hi there I'm Adiel a ditgital marketing specialist at Bukit VIsta and over the past few months I've been editing, updating, and finding out the perfect formula to create the ideal listing for Airbnb for over 100+ property listings in a 4 month span generating additional bookings and  revenue. So, this is not just some generic info on how to make your Airbnb listing stand out.
Making sure your Airbnb listing ranked high and attract potential guests is also no easy task since you're competing with thousands of other property owners trying to attract potential guests. But fear not, here are some of the insights I gathered to ensure your Airbnb listing is optimized so you don't have to make the same mistake I did.
1. Enhance your photos
Visitors may not always read your description, but they will almost surely browse (and examine!) your photos. Therefore, think about a refresh if you've just renovated your room, added some new facilities, or simply have a little extra money or time to devote to photography.
Make sure your cover photo grabs users' attention because it's what comes first in search results.
Put in succinct captions: A king-sized bed in the master bedroom or a high-end espresso maker in the kitchen are just two examples of how captions may assist visitors acquire crucial information about your area.
Employ a professional photographer if you're serious about taking well shot pictures. It might cost you, but will be worth it in the long run.
(One of our Bukit Vista Airbnb listings)
2. Update the information of your listing
Try to maintain the information on your listing as current and accurate as you can.
For instance, be sure to delete any references to the communal pool if you no longer have access to it.
Make your description concise. Focus on the aspects that matter the most to your visitors since they won't have time to browse through extensive information.
Demonstrate your hosting approach. You likely have a clearer understanding of the type of Host you are by this point. In your ad information, don't be hesitant to show off your individuality.
Interact with the visitors you wish to bring in. Perhaps you've had a lot of families or business travelers stay with you. Think about changing your tone to speak to those kinds of visitors and emphasizing the qualities that will most appeal to them.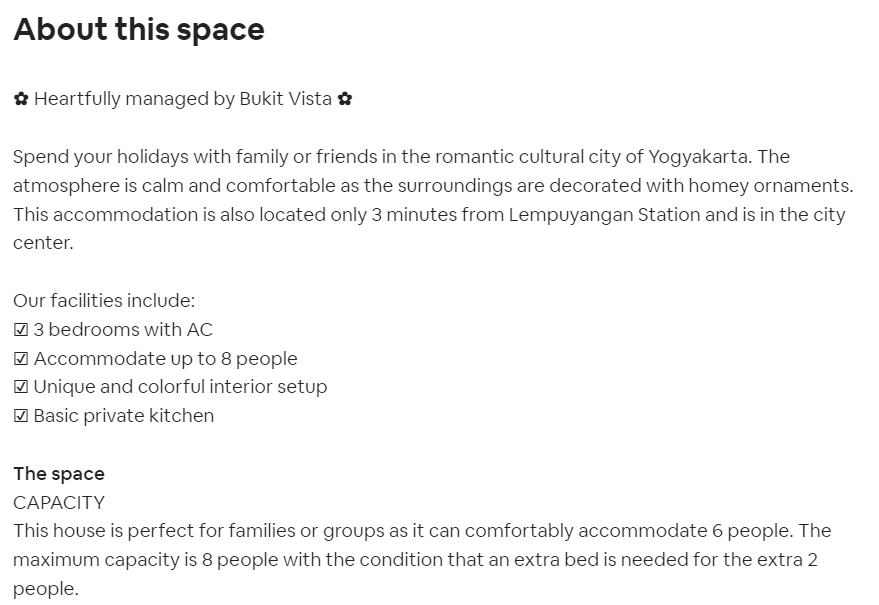 (One of our Bukit Vista listing descrition)
3. Improve Airbnb search ranking
Airbnb creates search results that are appealing to visitors using an algorithm. To discover the appropriate properties for each search, an algorithm searches through the millions of listings on Airbnb. The system delivers listings that correspond to the search criteria that users submit.
We found that to improve your search rankings, you might want to consider enabling Instant Book, taking more reservations, being responsive, and keeping great reviews to boost your search results.
4. Look to your visitors for crucial information
Use customer comments to improve your listing, both the great and the less-than-excellent ones. Did they gush over your terrace outside? Try highlighting it in pictures. On the other hand, it's possible that visitors were taken aback when they learned how inconvenient the site was for traveling to and from the airport. Setting expectations for potential visitors will be easier if you are more explicit about this kind of information in your listing description.
You'll be one step closer to Superhost designation if you can apply these insights to your listing and get more reservations, happier visitors, and higher reviews.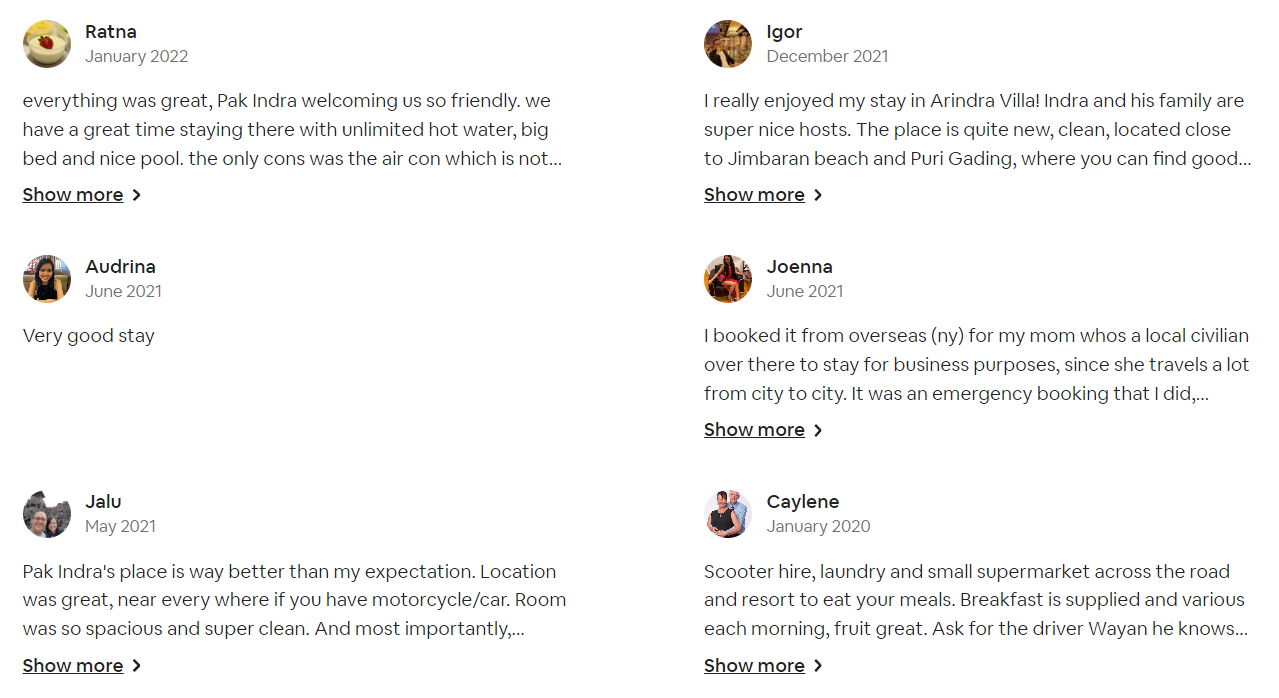 (Airbnb comment section)
How Bukit Vista Improve Airbnb listing through Strategic Property Prioritization
One of the ways Bukit Vista can help improve its hundreds of listing is through Strategic Property Prioritization. Because we managed over 100+ property listings,  our team of data scientists and business analysts can see which property listing needs optimizing so content team can update the property listings with new details. Which results in improve accuracy and quality performance of all our listings.
(Bukit Vista overall Airbnb quality performace)
If you read all the way down here, I hope it helped answer your questions on how to optimize your Airbnb listing. As you can see optimizing a property listing is no easy work especially if you're trying it for yourself on the first time. If you still want to go ahead and manage all of it yourself, go ahead we wish you the best. However, if you are sick of all the hassle of managing your own villa or fed up with other property management companies, we're here to hear your needs.

Feel free to contact us in any of the following ways for a free consultation to see what Bukit Vista can do for you.