Mr. Made Sukman is the general manager of GunGGunG Adventure who has decades of tourism experience. Through GunGGung Adventure, he developed Sibetan Village, the largest salak plantation area at Sibetan Village, Bebandem, Karangasem, Bali, to become a tourist village. It took a long time for Mr. Made to embrace the locals so that Sibetan Village could be developed into a tourist village. Mr. Made's hard work has made Sibetan Village now visited by many tourists, especially foreign tourists who are interested in living with local people in Sibetan Village. Mr. Made's long and inspiring journey made us invite him as an inspiring speaker at the company-wide meeting – Bukit Vista All Hands.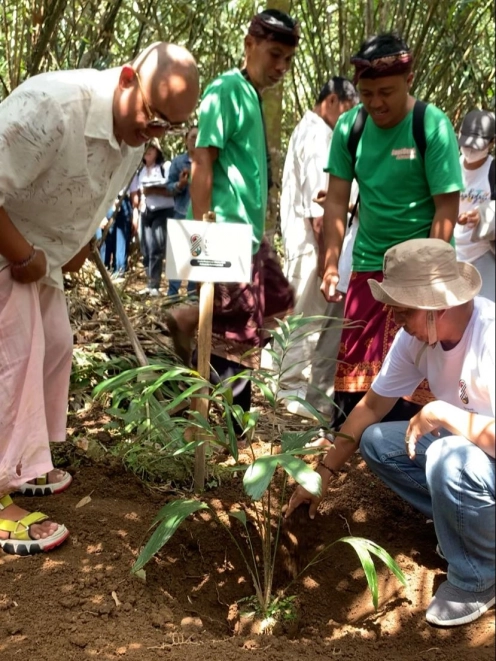 GunGGunG Adventure offers Bali's cultural and nature adventure activities located in Sibetan Village. The activities are supported by locals, natural beauty, and cultural uniqueness and combined with kinds of adventure activities such as classic 4WD car adventures, mountain biking, trekking, cooking classes, nature education trips, and experience staying at a local guest house. The famous plantation product of Sibetan Village is salak fruit. There are tourist activities there, tourists can pick salak in the garden.
In the All Hands event, Mr. Made shared the story of his journey to develop Sibetan Village until it became what it is now. The recording of All Hands with Mr. Made can be viewed here.
Sibetan Village is the largest producer of salak fruit in Bali but has no selling value so Mr. Made wanted to turn the salak fruit into a marketable value through tourism activities. Mr. Made strives to embrace local people to jointly develop tourism activities with a focus on opportunities. He utilizes the natural beauty of Mount Agung, the culture of Genjek Dance, and salak plantations to his advantage in an interesting tour package.
Initially, there was a lot of resistance from local people because it did not provide a big profit to develop a tourism village. With strong determination, Mr. Made convinced local people to work together to develop Sibetan Village. Mr. Made has a principle of not turning Sibetan Village into an urban or modern destination. He has a desire that tourists who come will gain experience and value that can be taken from Sibetan Village.
Mr. Made has his own way to make Sibetan Village a tourist village by growing with nature, culture, and people. He tried not to change what was there but made tourists also grow from what is in Sibetan Village. So that later, tourists will have a natural memory in Sibetan Village and get a valuable experience.
At the end of the All Hands event, Mr. Made shared about how he equalized the vision and mission with many people, especially with local people, which is also related to Bukit Vista, which works with many people from various sectors. He said that there is no need to change what exists but how to equalize perceptions to achieve goals.