Greetings! I am
Furqon
, a dedicated and results-driven PR specialist passionate about crafting compelling narratives and building solid relationships. In the spirit of sharing, I would like to deliver our partner's positive transformation story, Villa Tortoise.
At
Bukit Vista
, we believe in the power of partnership and innovation. Our commitment to delivering unparalleled experiences to our guests and homeowners has always driven us to think beyond the ordinary. Recently, we had a game-changing moment at Villa Tortoise. We proposed a remarkable improvement that we're excited to share with you.
Tendi
shared his vision for enhancing
Villa Tortoise
, a hidden gem nestled amidst nature's wonders in Bingin. He recognized that the existing storage space was no longer suitable for linen, chemicals, and cleaning tools. This keen observation was a testament to his dedication to ensuring our guests' comfort and the impeccable quality of their stay.
Tendi's proposal resonated with our core values and our collective vision to make each property the best it can be. The approval of his idea was a testament to the collaborative spirit that defines our partnerships. Together, we are dedicated to enhancing the experience for both homeowners and guests, and this project is an exciting step towards achieving that goal.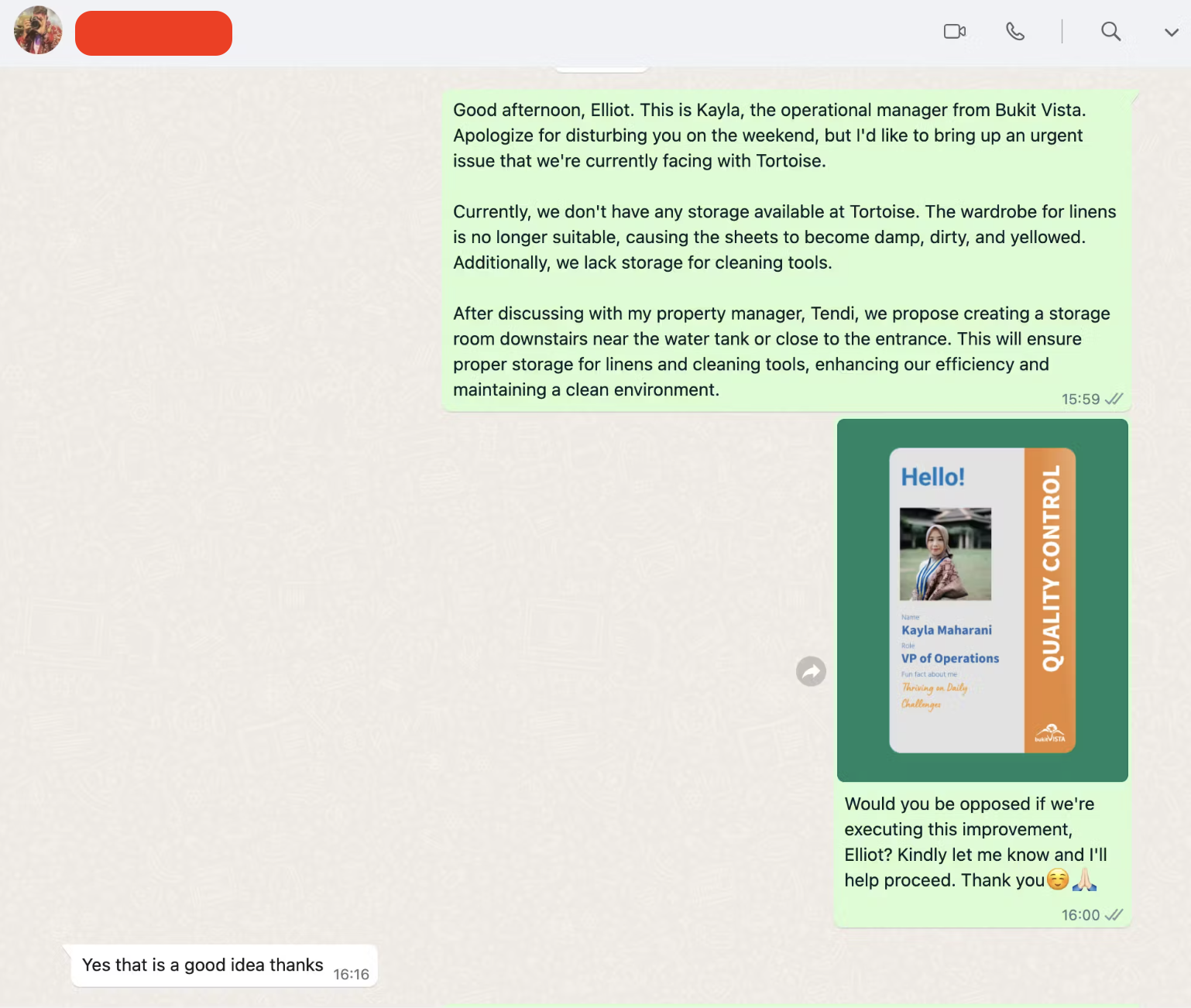 Turning Vision into Reality
With the proposal approved, Tendi has taken the helm of the execution part of this project. He is the embodiment of our commitment to innovation and improvement. The new storage space, strategically located beside Villa Tortoise, is set to revolutionize the way we manage our supplies, ensuring that our properties are always in impeccable condition. Tendi's dedication and leadership in this venture inspires all of us at Bukit Vista.
In addition to the storage upgrade, we have also installed new direction signs at Villa Tortoise. We believe in making our properties easy to navigate for both guests and homeowners, ensuring a seamless experience at all times. Installing these signs is another example of our ongoing efforts to enhance the guest experience.
We invite you to join our partnership with Bukit Vista. The transformation of Villa Tortoise is a testament to our shared commitment to innovation, excellence, and making a difference in the world of property ownership. Together, we can continue to shape the future of hospitality, creating unforgettable experiences for guests and property owners alike.
At Bukit Vista, we are more than a vacation rental management company; we are a community of passionate individuals dedicated to pushing the boundaries of what's possible. If our vision and values inspire you, we'd love to
welcome you into our family
. Together, we can create memorable moments, forge lasting partnerships, and contribute to a brighter future in the world of property ownership.