Introduction
Hello, I'm Yosefine, a Human Resource Intern at Bukit Vista, deeply acquainted with Bali's vibrant allure, especially Kuta. This bustling hub, renowned for its stunning beaches and vibrant nightlife, is a tapestry of cultural and adventurous experiences. Whether you're an adrenaline junkie or a culture seeker, Kuta has something captivating for everyone. In this guide, I'll share the top "things to do in Kuta" and the "places to visit in Kuta," offering you a glimpse into the heart of Bali's excitement and beauty. Join me to discover why Kuta should be a highlight of your travel adventures!
1. Visit Kuta Beach
Begin your Balinese adventure at the iconic Kuta Beach, a beacon for beach lovers and surf enthusiasts. Its golden sands stretch under the Bali sun, offering a perfect playground for surfers to ride the rolling waves. Beyond the surf, the beach is ideal for sunbathing, building sandcastles, or simply soaking in the vibrant atmosphere. As the day wanes, the beach transforms into a picturesque spot to witness breathtaking sunsets. Lining the shore, a plethora of cafes and bars buzz with life, inviting you to enjoy a refreshing cocktail or a cold beer as you take in the stunning ocean views.
2. Explore Waterbom Bali
Next, dive into the thrilling world of Waterbom Bali. As one of Asia's top water parks, it's a paradise for families and thrill-seekers. The park boasts a vast array of water slides, from adrenaline-pumping drops to more gentle rides for the little ones. It's not just about the slides; immerse yourself in attractions like the Lazy River or the exhilarating FlowRider. Amidst lush tropical gardens, Waterbom Bali provides a refreshing escape from the heat, ensuring a day of fun and excitement for all ages.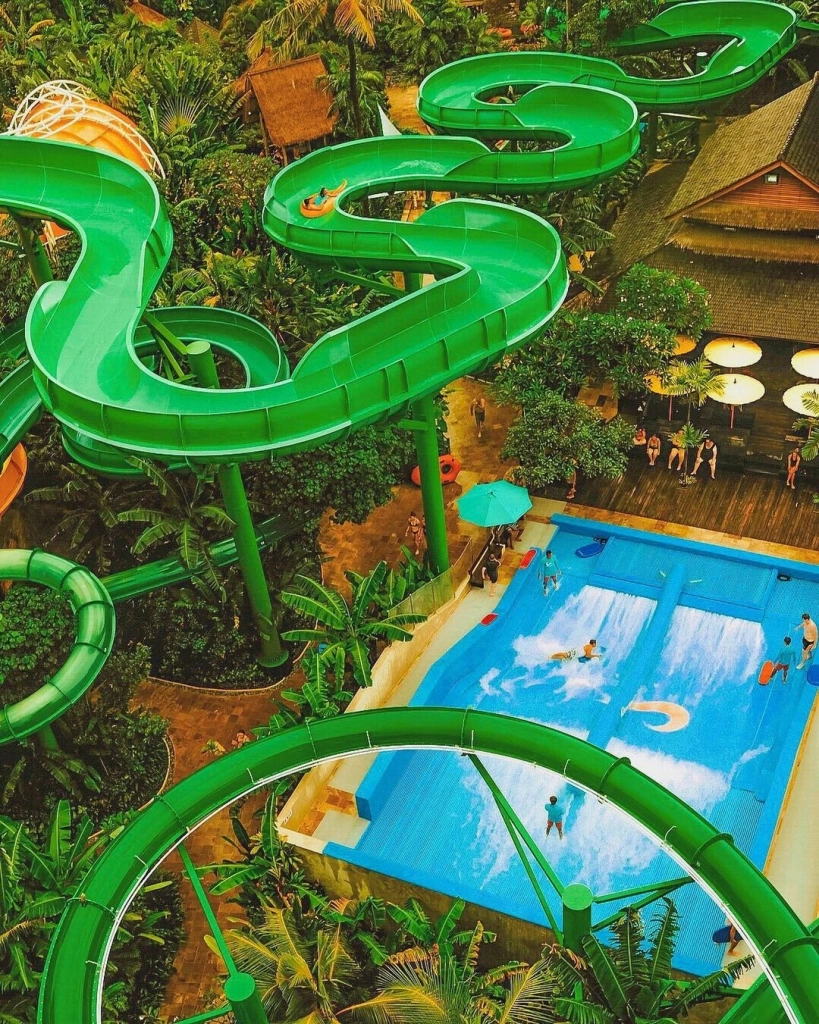 3. Shop at Beachwalk Shopping Center
For a shopping experience like no other, head to Beachwalk Shopping Center. This open-air mall blends modern retail with the beauty of traditional Balinese architecture. Wander through a maze of shops showcasing everything from local handicrafts to international designer brands. After shopping, take a gastronomic journey in its diverse array of dining options. Whether you crave fine dining or a quick snack, Beachwalk offers a taste of global cuisines in a chic, relaxed setting.
4. Experience the Nightlife on Jalan Legian
As dusk settles, Kuta's famous Jalan Legian street awakens. This vibrant thoroughfare is the heart of Kuta's nightlife, buzzing with an array of clubs, bars, and live music venues. Dance the night away in a high-energy club, enjoy live bands in a laid-back bar, or simply stroll along the lively street, soaking in the energetic ambience. It's a place where memories are made under the starry Bali sky.
5. Visit the Kuta Art Market
Immerse yourself in Balinese culture at the Kuta Art Market. This bustling marketplace is a treasure trove of local handicrafts, art, and souvenirs. Browse through stalls filled with colorful sarongs, intricate wood carvings, and handmade jewelry. Engage with local artisans and practice your bargaining skills to secure unique gifts and keepsakes, capturing the essence of Bali.
6. Relax at Dream Museum Zone (DMZ) 3D Trick Art Museum
Add a touch of whimsy to your Kuta experience at the Dream Museum Zone (DMZ) 3D Trick Art Museum. Step into a world of optical illusions and interactive art. The museum features a collection of three-dimensional paintings that create fun and surreal photo opportunities. It's an entertaining outing for all ages, blending art with a sense of play.
7. Enjoy Local Cuisine
Embark on a culinary adventure in Kuta, where the food scene is as diverse as it is delicious. From traditional Balinese dishes like Babi Guling (suckling pig). Babi Guling Chandra stands out as a culinary landmark in Kuta for those eager to experience traditional Balinese cuisine. Despite its popularity, Babi Guling Chandra maintains an accessible, budget-friendly appeal, offering visitors a genuine taste of Bali's rich culinary heritage in the bustling heart of Kuta.
8. Take a Balinese Cooking Class
For a more hands-on culinary experience, enroll in a Balinese cooking class. Anika Cooking Class in Kuta stands as a gateway to the vibrant world of Balinese cuisine, attracting culinary enthusiasts keen on mastering the art of local cooking. Distinguished for its comprehensive approach, the class begins with an enlightening market tour, where participants are introduced to fresh, native ingredients and gain insights into the staples of Balinese kitchens.
9. Stroll Around Kuta Square
It's situated near the famous Kuta Beach, making it easily accessible for visitors staying in the area. The square is a popular shopping and dining area, and it's well-known for its array of shops, boutiques, restaurants, and cafes. It's located on Jalan Bakung Sari and Jalan Kartika Plaza, two of the main roads in Kuta, providing easy access to various other attractions and accommodations in Kuta. The proximity of Kuta Square to the beach and other key tourist spots makes it a convenient and popular destination for both shopping and leisure.
10. Relax at a Spa
After days filled with adventure and exploration, unwind at one of Kuta's many spas. Theta Spa by the Sea, nestled near the iconic Kuta Beach, offers a tranquil retreat for those seeking relaxation and rejuvenation in Bali. This spa stands out for its idyllic location, allowing guests to enjoy stunning ocean views as they indulge in a variety of soothing treatments. The serene ambiance of the spa, combined with the rhythmic sound of the waves, creates a perfect backdrop for a relaxing experience.
Conclusion
In Kuta, every moment is an invitation to experience Bali's vibrant spirit, from its stunning beaches to its rich cultural tapestry. This destination is a perfect blend of adventure, relaxation, and cultural immersion, offering something unique for every traveler. As you plan your journey, let Bukit Vista enhance your experience with our local expertise and diverse accommodations. Discover more about how we can make your Bali adventure unforgettable at Bukit Vista. Whether it's your first visit or a return to this enchanting island, Kuta promises memories that will last a lifetime.