Hi, I'm Reza! Delighted to share insights about Bali's enchanting Jimbaran. Having immersed myself in studying the region's coastal wonders, cultural gems, and thriving hospitality, I bring you a curated list of the "Top 10 Things to Do in Jimbaran." Join me on this journey to explore Bali's southern gem, where natural beauty and cultural richness converge seamlessly. Let's delve into the breathtaking beaches, culinary delights, and iconic landmarks that make Jimbaran a must-visit destination. Ready for an adventure? Let's uncover the magic of Jimbaran together!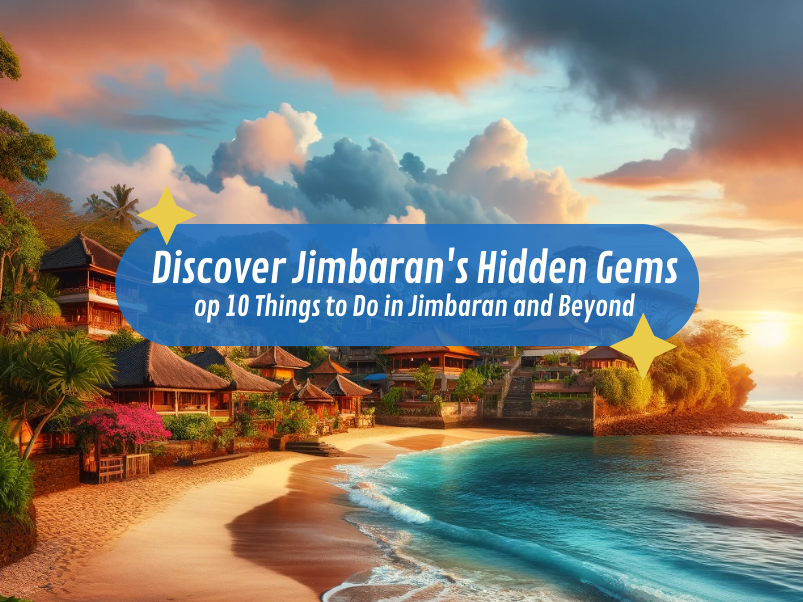 1. Beach-Hopping
Jimbaran's shores are a tapestry of stunning landscapes. Each beach, from the serene Jimbaran Beach to the lively Balangan Beach, offers a unique experience. Whether it's surfing at the renowned Padang Padang Beach or simply soaking up the sun, the beach-hopping experience in Jimbaran is unparalleled. These pristine beaches are not just about the sand and sea; they are about immersing oneself in the natural beauty and tranquility of Bali.
2. Visit Kedonganan Fish Market
At Kedonganan Fish Market, the vibrant heart of Jimbaran's seafood culture beats. Here, the air is rich with the aroma of fresh catches. Stalls brimming with an array of seafood offer a glimpse into the local culinary scene. This bustling market is not just a place to buy seafood; it's an immersive experience where you can witness the lively interactions and the authentic lifestyle of the Jimbaran community.
3. Garuda Wisnu Kencana (GWK)
The GWK cultural park is a marvel of art and architecture. Dominated by the colossal statue of Vishnu, the park represents the artistic and spiritual heritage of Bali. Visitors can explore a variety of cultural performances and exhibitions, gaining insight into the island's rich traditions and contemporary artistic expressions.
4. Pura Ulun Siwi Temple
This temple is a serene oasis, reflecting the spiritual depth of Balinese culture. The intricate coral stone architecture and the tiered pagoda provide a picturesque setting for contemplation and understanding of local religious practices. It's a place where one can not only admire the architectural beauty but also experience the tranquility and reverence of Balinese Hinduism.
5. New Kuta Green Park
Ideal for families, New Kuta Green Park combines exhilarating water rides with tranquil spots for relaxation. Set amidst lush landscapes with a sea breeze, the park offers a refreshing escape from the hustle and bustle, providing an enjoyable day out for both kids and adults.
6. Warung Bamboo
A gem among Jimbaran's eateries, Warung Bamboo offers a true taste of the sea. With its fresh seafood cooked to perfection and a range of delicious side dishes, each meal here is a gastronomic delight.
7. Surfing and Water Sports
Suluban Beach, with its stunning limestone cliffs and turquoise waters, is a surfer's paradise. It's a place where experienced surfers can challenge themselves against the waves, while others can enjoy the scenic beauty and tranquility of the beach.
8. Local Markets Exploration
The local markets of Jimbaran are a kaleidoscope of colors, flavors, and sounds. They offer a glimpse into the daily life of the locals, with an array of handcrafted goods, textiles, and street food that reflect the rich cultural tapestry of Bali.
9. Jenggala Gallery
At Jenggala Gallery, art enthusiasts can delve into the world of Indonesian ceramics. The gallery showcases a wide array of ceramic art, from traditional designs to contemporary creations. It's a place that inspires creativity and appreciation for the intricate art of pottery.
10. Lovina Beach
The unique black sands of Lovina Beach offer a contrast to the typical beach experience. Known for its calm waters and dolphin sightseeing tours, it's a place where nature's wonders are on full display, offering a peaceful yet exciting end to your journey in Jimbaran.