When it comes to interior design, Bali is becoming a hub of creativity and innovation. In recent years, there has been a surge in the popularity of Bali-inspired interior design, which is characterized by its use of natural materials, rustic elements, and a seamless integration of indoor and outdoor spaces.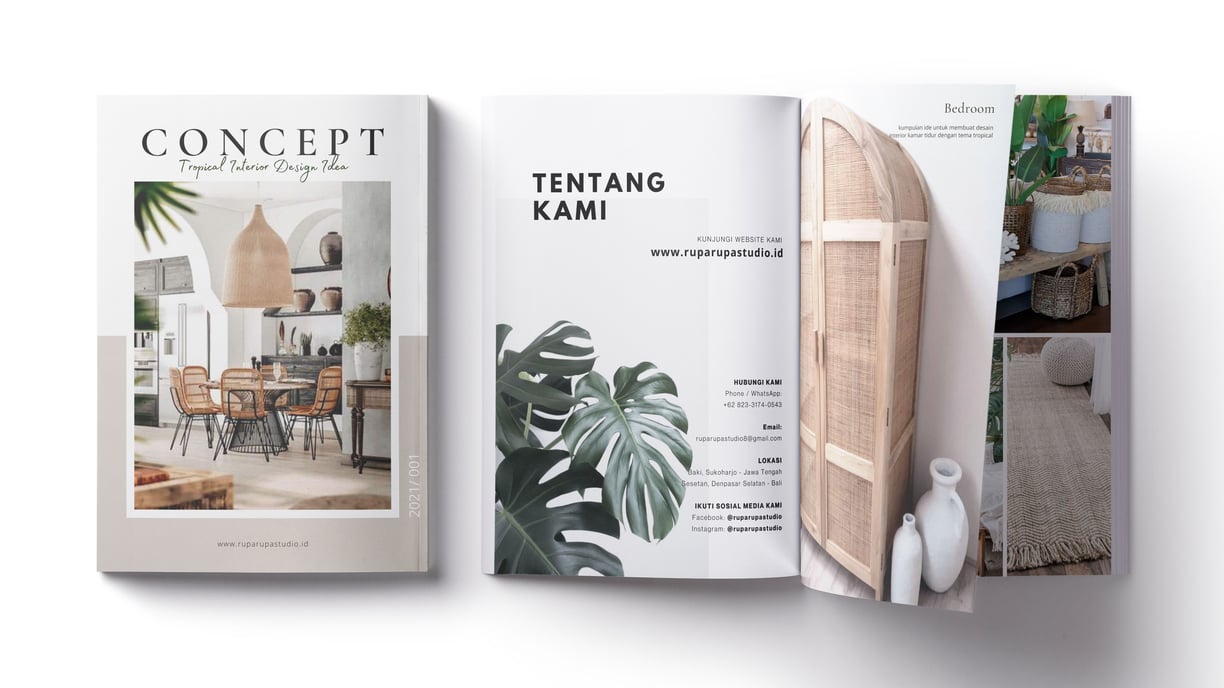 As the leading property manager in Bali & Yogyakarta, we work with our community experts of interior designer & architecture to advice property owners and developers in designing and building the best property to attract guests. In this article, we will explore the trending interior design in Bali that you can incorporate into your own rental property to bring more guests by asking one of our interior designer experts : Rupa-Rupa studio
Interior design trends that are currently in the market and in demand in Bali
An interesting design to apply to rental properties in 2023 is a design that can bring property users back to nature. Examples of the intended design are tropical interior design. Therefore, furniture that uses natural materials such as real wood, HPL with wood motifs, furniture made of stone, etc. will be increasingly popular. These materials can be incorporated into furniture, flooring, walls, and decorative elements. The use of natural materials not only creates a calming and peaceful environment, but it also reflects Bali's dedication to preserving the environment.
Scandinavian interior design style is a minimalist and functional style that originated in the Nordic region, including Denmark, Sweden, Norway, Finland, and Iceland. This style is characterized by its emphasis on simplicity, clean lines, and neutral colors. The design often incorporates natural elements, such as wood and stone, to create a sense of warmth and coziness.

Scandinavian furniture is typically made of light-colored wood, such as birch or pine, and has clean, simple lines. The color palette is predominantly white or light gray, with pops of color added through accessories. The Scandinavian style also incorporates the concept of "hygge," which is a Danish word that translates to "coziness" or "contentment." This style promotes a sense of simplicity and comfort in the home, creating a peaceful and relaxing environment.
Bohemian interior design style in Bali takes inspiration from the island's vibrant culture, art, and natural surroundings. Bali's bohemian style is characterized by its use of vibrant colors, intricate patterns, and natural materials. The design often incorporates elements of Balinese culture, such as wooden carvings and batik textiles, to create a unique and authentic look. Furniture and decor items are often sourced locally or from other Southeast Asian countries, adding to the bohemian charm. The bohemian style in Bali embraces a relaxed and carefree way of life, promoting self-expression and a connection to nature. It creates a welcoming and comfortable environment that encourages personal style and creativity, making it a popular choice for those seeking a unique and inspiring home in Bali.
So what interior design should I apply?
In conclusion, Bali-inspired interior design is a beautiful and unique way to create a warm and inviting space. By incorporating natural materials, bohemian style, Balinese art, and minimalism, you can create a calming and peaceful environment in your own home. Whether you live in Bali or are simply inspired by its beauty and culture, incorporating these design trends can help you create a space that is both beautiful and functional. As well as attract potential guests to your rental property. 
If you want to consult more on what design your property should have, we're here to hear your needs. We manage over a hundred  properties and collect data on which design may correlate to a higher rental return. Choose a property manager who can bring you maximum revenue for your property, and transform your property hassle free.
Feel free to contact us for a free consultation to see what Bukit Vista can do for you.