Greetings! I am
Furqon
, a dedicated and results-driven PR specialist passionate about crafting compelling narratives and building solid relationships. In a spirit of sharing, I would like to deliver our positive transformation story as we welcome our first guest at Villa Mango Sky
A Rocky Start Welcoming Our First Guest
The first impression is everything, let alone in the hospitality industry. At Bukit Vista, we know that a smooth check-in can set the tone for an unforgettable stay. We recently had the pleasure of welcoming our very first guests, Ronald and Melina, to Villa Mango Sky, a property that had faced its fair share of operational challenges. But with dedication, hard work, and a passion for providing exceptional experiences, we turned things around.
A Collaborative Effort Paid Off
The moment they stepped into Villa Mango Sky, it was clear that our efforts had paid off. The villa's beauty, the breathtaking location, and the thoughtful details we put into every aspect of the property left a lasting impression on our guests. Ronald and Melina were not only pleased but genuinely impressed.
Ronald and Melina shared their experience with the world by leaving a 5-star review that captured the essence of Villa Mango Sky: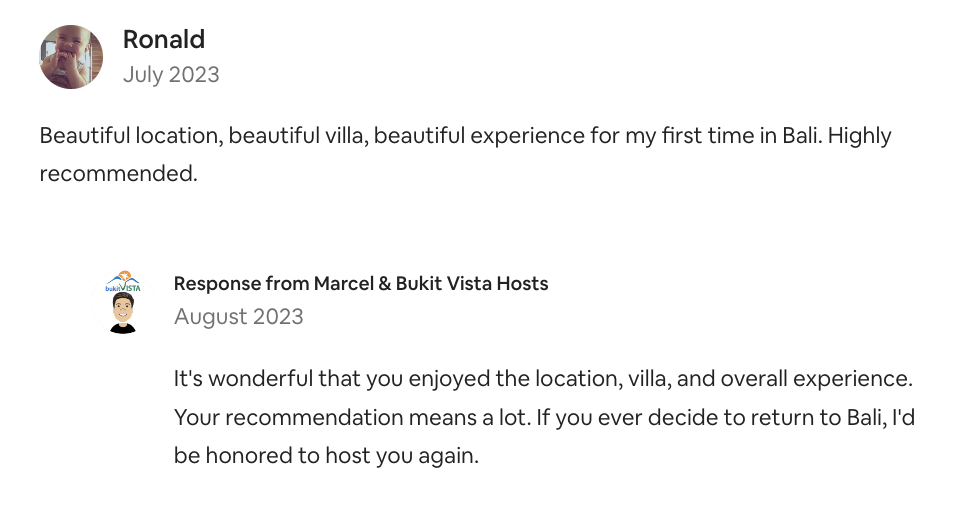 A 5-Star Review That Speaks Volumes
This review is a testament to the hard work and dedication of our entire team. It is a reminder that, even when faced with challenges, we can transform them into opportunities for growth and improvement. At Bukit Vista, we believe in the power of collaboration and the pursuit of excellence, and this success story at Villa Mango Sky exemplifies those principles.
We want to extend our heartfelt gratitude to our team members who made this experience possible. It is thanks to their unwavering commitment and passion that we can continue to offer remarkable stays and create memories that will last a lifetime. We look forward to more beautiful experiences, more happy guests, and more 5-star reviews as we continue to redefine the art of hospitality.
To Ronald and Melina, we thank you for choosing Villa Mango Sky and allowing us to be a part of your first Bali adventure. Your trust and appreciation inspire us to keep striving for excellence, and we hope to welcome you back in the near future for another beautiful experience.
In conclusion, Villa Mango Sky's story serves as a reminder that challenges can be transformed into opportunities, and with dedication, hard work, and a committed team, we can create unforgettable experiences that leave a mark in the hearts of our guests.
Having the same mission to inspire delight? let's join as our partner
here