From the stunning T-rex shaped cliff, beautiful sunset in Crystal Bay, swimming with Manta or chill on the white sands in Atuh beach, Nusa Penida has it all in one package. As the new hidden gem where everybody is heading on nowadays, Nusa Penida always included in every traveler's bucketlist.
Not to mention that there are a lot more exotic places like waterfall, beautiful hill and spring that make a one-day trip day will never enough to explore the island. Plan to stay a few nights there wouldn't be any harmful for your wallet. There are a lot of cute yet affordable places (some are less than 20$ per night!) to be the basecamp of your adventure in this island. Let's dive into the list of some of the best Nusa penida vocation rentals.
These are our recommendations for Nusa Penida's villa and guesthouse best deals
1. Once in a Lifetime Hilltop Bungalow Experience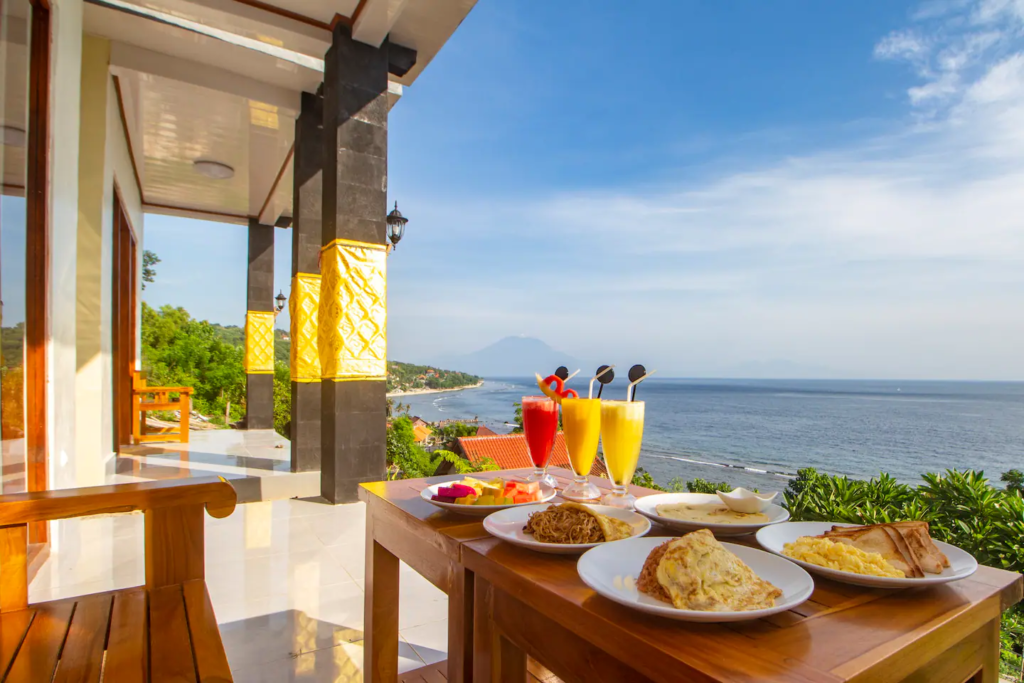 Feel the tremendous experience with stay on a cliff-top bungalow & waking up to the breathtaking sunrise view. You'll have a standard room type facing the ocean & we're happy to help your tropical Penida journey memorable. It takes 5 minutes to walk to get to Giri Temple, a must-visit place in Nusa Penida.

Book now
2. Soothing Sound of the Waves in a Beachfront Cabin
Welcome to our cabin with beach view that you can see from our spacious green garden. It's ideal for those who want to get away from the traffic and hustle of Kuta/Seminyak/Canggu.
The sky takes on shades of orange during sunset is the best time to chat with your friends or partner, and the soft wave sound will be the sweet lullaby that gives you an unlimited tranquil feeling. What a good life right?!
3. Nusa Penida New Beachfront Cottage with Cute Pool
Located in the northern part of Nusa Penida, this cottage will bring you the serenity of the fresh air and sea breeze while you stay here. This wooden cottage will give you free access to the beach. It also has billiards, table tennis facilities, and yoga space.
4. Penida Cabin for Diving & Snorkeling Enthusiasts
Located near the beach in Nusa Penida is a lovely property managed by a lovely family. This humble cabin is the best choice for any traveling backpacker. We offer the best hospitality and homey feeling, the perfect place to lay down after an adventurous day.
5. Beachfront Bungalow w/ Sunset View
No adventure is complete with a peaceful stay in this adorable beachfront bungalow with stunning ocean view. The sky takes on shades of orange during sunset and the soft sounds of waves will accompany you throughout your stay.
6. Bungalow w/ Fast Wifi & Walk Distance to Harbor
As written in it's name, this place located only 3 minutes walk from the Buyuk harbour. So, don't worry hard to find scooter rent or restaurant nearby, because this bungalow is located in the center of Penida. Managed by local family, this house has 4 pretty bungalows in total. This place has very great reviews for it's cleanliness and great value for money. Totally perfect to be your second home during your vacation!
7. Breathtaking Ocean View Cabin w/ Wi-Fi & Breakfast
Experience serenity of the blue paradise island of Nusa Penida. You will have a cabin on the hill facing the magnificent mountain and horizon separating the ocean and sky. Delicious free breakfast & juice will make your holiday more exciting! This cabin is located in the center of village in Nusa Penida, not too turistic, more local but its still close to many restaurants and cafes.
So guys, that was some places in Nusa Penida that is cheap and has superb facilities that worth the money. Check our Nusa penida rental page and Airbnb for more beautiful houses around Bali!