TOP 25 VEGAN-FRIENDLY CITIES IN 2019 BY THE VEGAN WORD
It is no doubt that big cities around the world like London, Berlin, New York City, Portland and Tel Aviv are famous for being vegan friendly. World's well known public service platform to assist travellers and people everywhere find plant-based / vegan options and healthy food, HappyCow put them in the top 5 ranking of vegan cities in the world.
As a place where a lot of people visiting for nature retreat, it would be fair if Ubud also serves as vegan friendly city, which is not just an idea. A vegan blog written by a vegan herself, named Caitlin under the name of The Vegan Word ranked Ubud as number 1 among 25 vegan friendly cities for the year of 2019. Even Tel Aviv was being put on the 3rd position on her list.
She calculated the vegan restaurants per capita (the number of 100% vegan restaurants listed on Happycow per 100,000 people in the city) as the metric of her measurement to determine the ranking.
Tho she admitted that it is not a foolproof method of measuring a vegan friendly city. Some cities might have a huge number of vegetarian, but not vegan, restaurants. Or they might have a lot of restaurants with vegan options. However, it is still an achievement for Ubud to be leading that list.
Being the smallest locale on the list, the town of Ubud has only 30,000 residents with around 13 completely vegan restaurants offered. Tel Aviv, World's 5th Vegan Cities by HappyCow in comparison, has around 400 vegan and vegan-friendly restaurants.
This doesn't seem quite right only if we understand the metric used. Tel Aviv has over 4 million residents. If we divided those 400 vegan and vegan-friendly restaurants in Tel Aviv to its residents, it will only leave 8 vegan restaurants per 100,000 of its resident. Ubud on the other hand offers 43 vegan restaurants per 100.000 residents, which makes the list much more makes sense.
Located in the tropical paradise of Bali, it is expected that you would find mouth watering tropical fruit galore, as well as variety of vegan-friendly restaurants.
Experience eating at a buffet vegan restaurant called 9Angels in the heart of Ubud and having a cup of fresh Kombucha tea only for less than half a dollar. Try the vegan crepe at Earth Cafe and Market, or make your imagination of perfect smoothie bowl come true at Alchemy.
If you find yourself overwhelmed on all of these selection of vegan restaurants and its Ubud atmosphere, you might as well want to check out some cool places to stay in Ubud to get your belly ready for another vegan foodie journey the next day.
Here are some recommendation for you to chew on while preparing your next trip to Ubud;
Ultimate Serene Cottage Inside Village of Ubud
Sustainable Wooden Cabin Nested in The Middle of Rice Paddy
Stunning All Bamboo Eco-House Overlooking River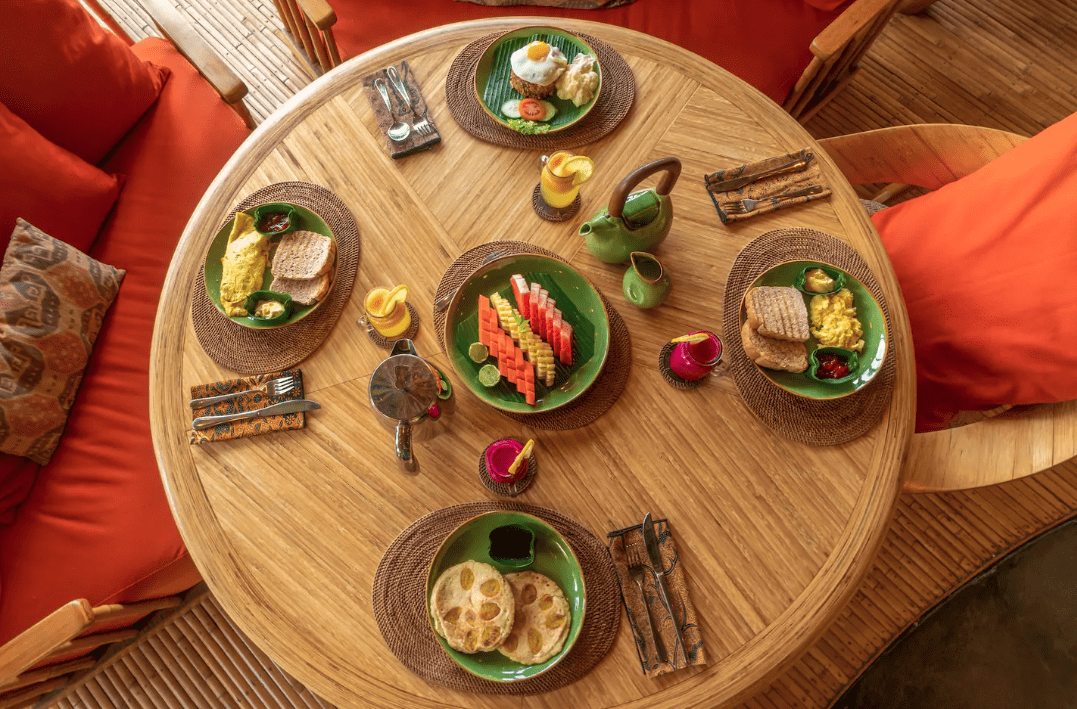 Start your vacation with us!