Discord in Bukit Vista applies as a virtual office since we are all working from home. This communication tools will be very useful for quick discussions that are more efficient than other written communication tools. It allows faster decision making (for quick discussions), feeling the online presence of other teammates. Here's a Beginner's Guide to Discord for more details that are not mentioned below.
Channel Types

Two kinds of Channel types
How to differentiate channels:
Text Channel (TC) uses the "#"
Voice Channel (VC) uses the "🔈"
Room/Category: Main Lobby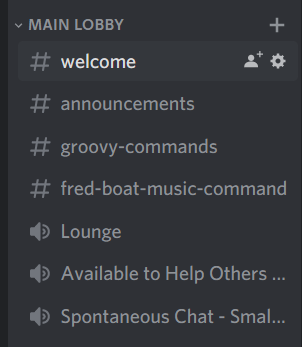 Channels in the Main Lobby
p.s. You can move the text & voice channels, and members to everywhere by dragging them to the desired area where you need them to be.
Disclaimer: Please don't drag the other members for fun. it's okay to drag them without their consent, but please make sure that they are online and available at that time.
Room: Chapters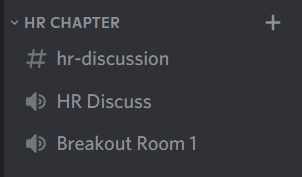 Each Chapter have their own text channel and 2 voice channels
Text channel – #xx-discussion = a text channel for asynchronous discussions or text messaging during the discussion/communication in the voice channel

e.g. to give necessary links for discussions.

Voice channel – XX Discuss = room for main discussion within the chapter members
Voice channel – Breakout Room 1 = multifunctional room: can be used to discuss sub-topics when the main discussion room is full, or just hanging out in the breakout room.
p.s. feel free to add another voice channel (e.g. Breakout Room 2) if needed (when the main VCs in your chapter room are full), then you can delete it again once you're done using it.
PLEASE DO NOT INPUT YOUR PLAYLIST IN THE DISCUSSION TEXT CHANNEL, AS IT WILL COME AS SPAMMING AND IT WILL BE DIFFICULT TO LOOK THROUGH PAST MESSAGES
Setting Status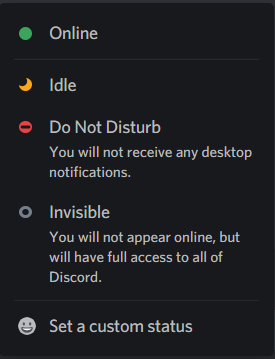 Please set status according to your current availability.
Online – your online and available
Idle – same with Slack's "Away"
Do not Disturb – when you're free but is unavailable
Invisible – i wouldn't recommend to use this one during working hours, but feel free to be invisible after working hours
Set a custom status – For lunch, day off but still online, outside, etc