We use Slack as communication channel, not a data storage channel.

Access to Bukit Vista Slack workplace
Bukit Vista uses Slack for internal communication. Slack offers various features that are not present in ordinary instant messaging application. You can read some of the basics of slack in Slack 101. The basic skills that you should pick up is basically effective communication within channels and private chats. Some features in Slack that are not present in other instant messaging apps are:
Channels
Threads
Pins
Channel/Workspace call (@channel and @all)
Profile
This is where people find out what you're doing in the company. Please make sure your profile is complete. Click your profile image on the top-right corner → Click edit profile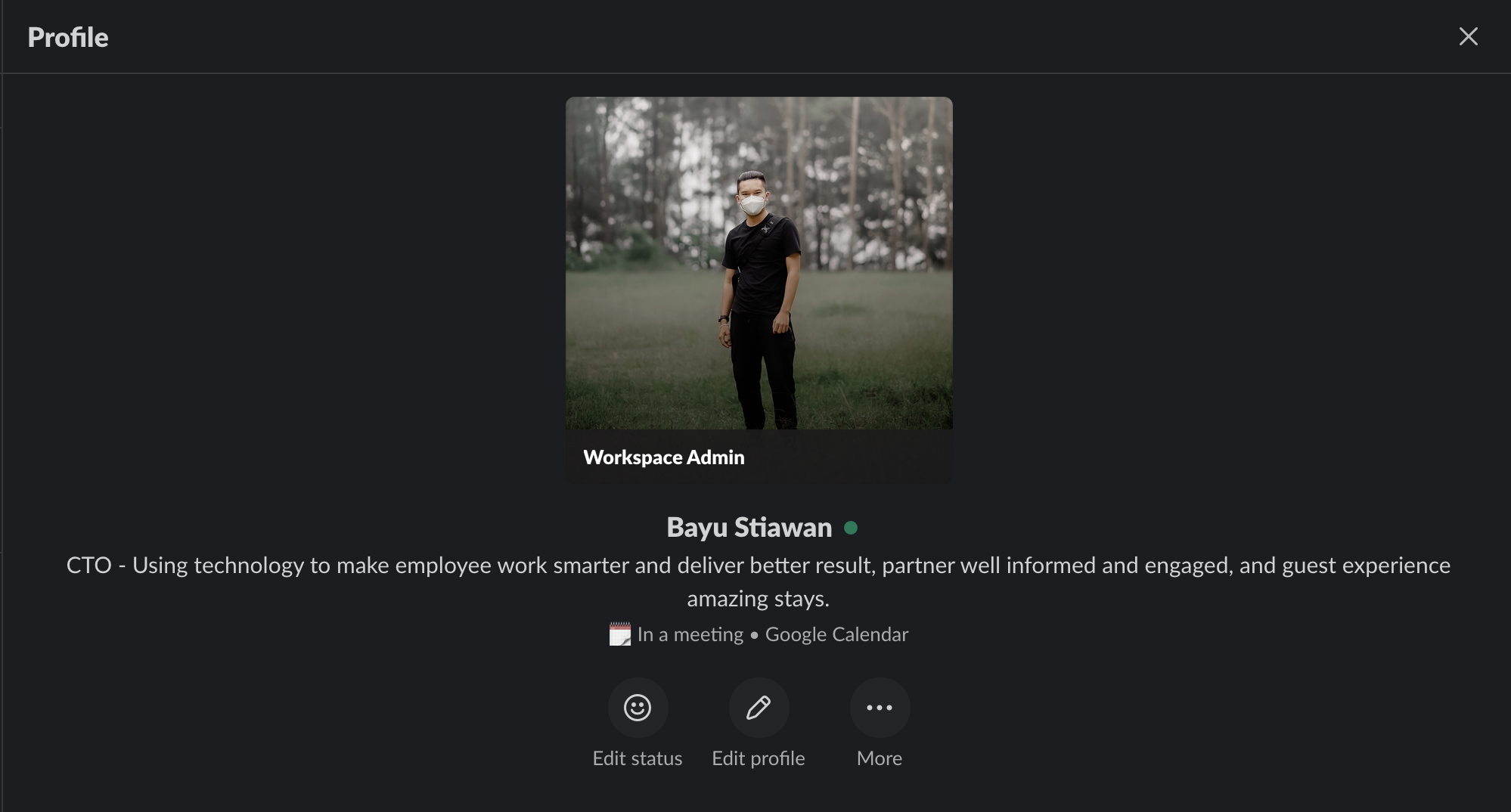 ---
Channels
Bukit Vista has transparent channels, anyone can join any channels. We can access the channels through the channel browser tab located in the sidebar.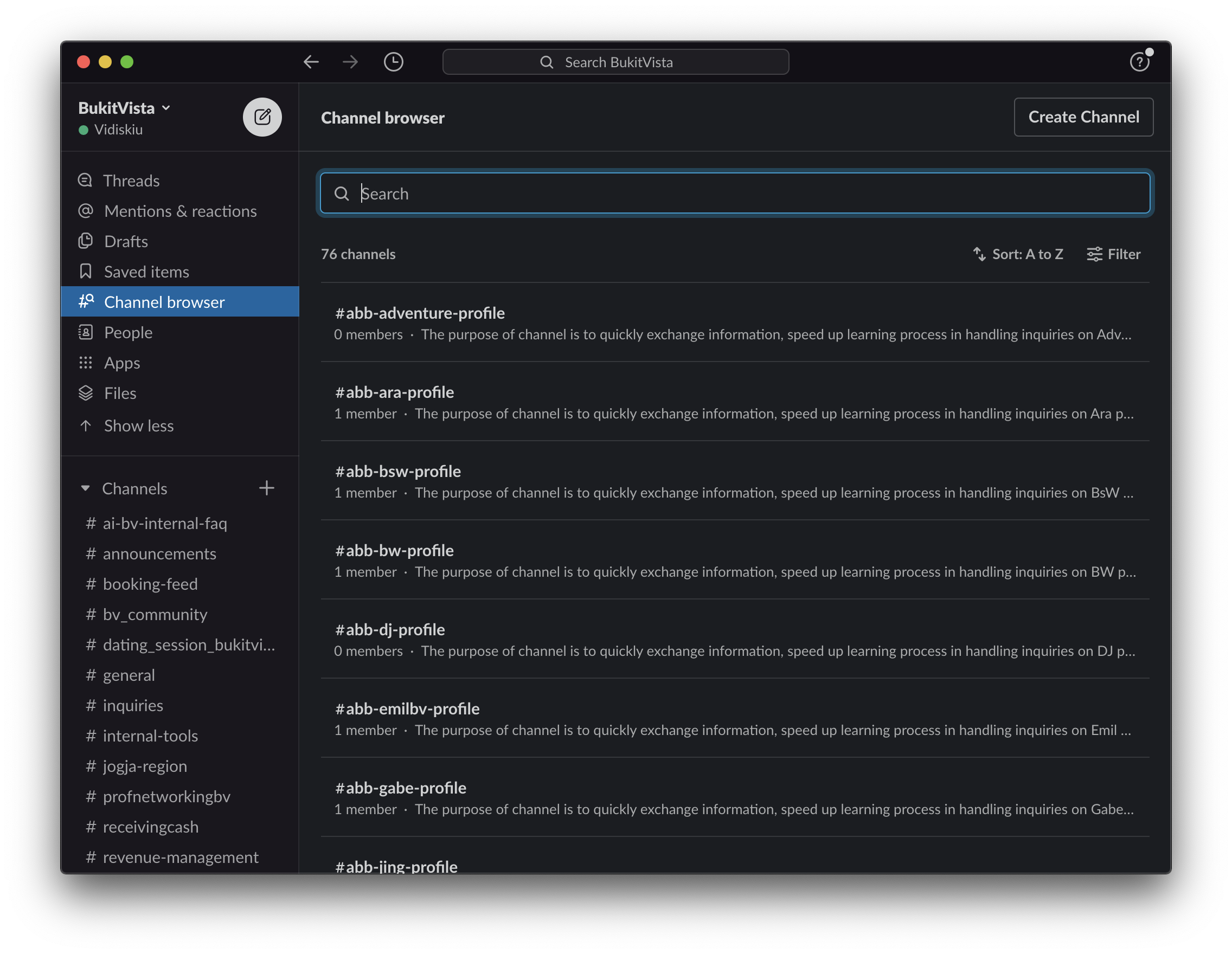 There are fixed channels and temporary channels. Fixed channels are channels that will always be around, they are:
Chapter channels
inquiry channel
booking-feed
Airbnb account channel
and many more
Feel free to create temporary channels to gather people that support your long term projects/initiatives. After the project is completed, notify an administrator to have them dissolved by tagging them in the channel; channels with >30 days inactivity may be dissolved to clean up the clutters.
---
Threads
Threads prevents conversations with different topics to get stacked on top of each other. When replying to a message in a channel, click on Reply to thread.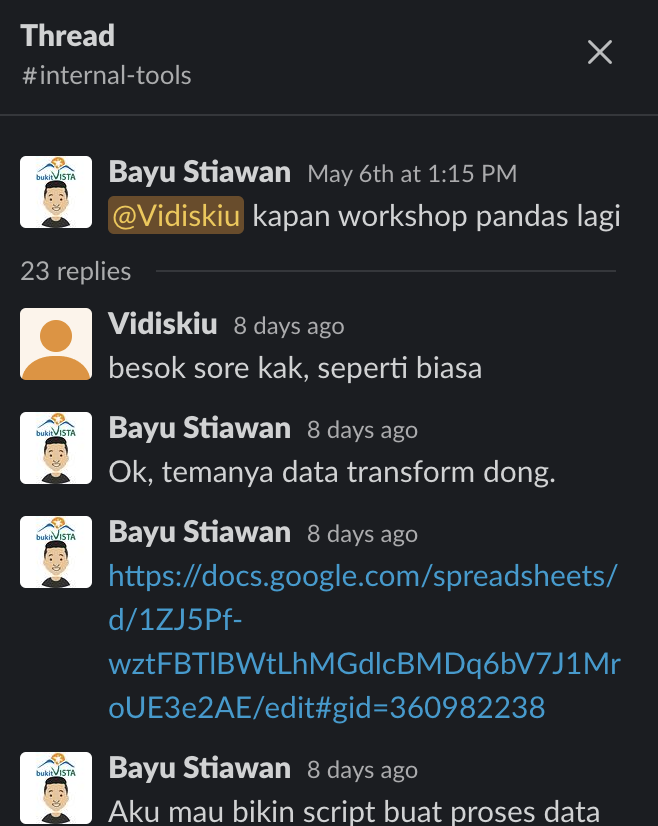 Slack will notify you for every activity in a thread you are following; you can see those threads in the Threads section located in the sidebar.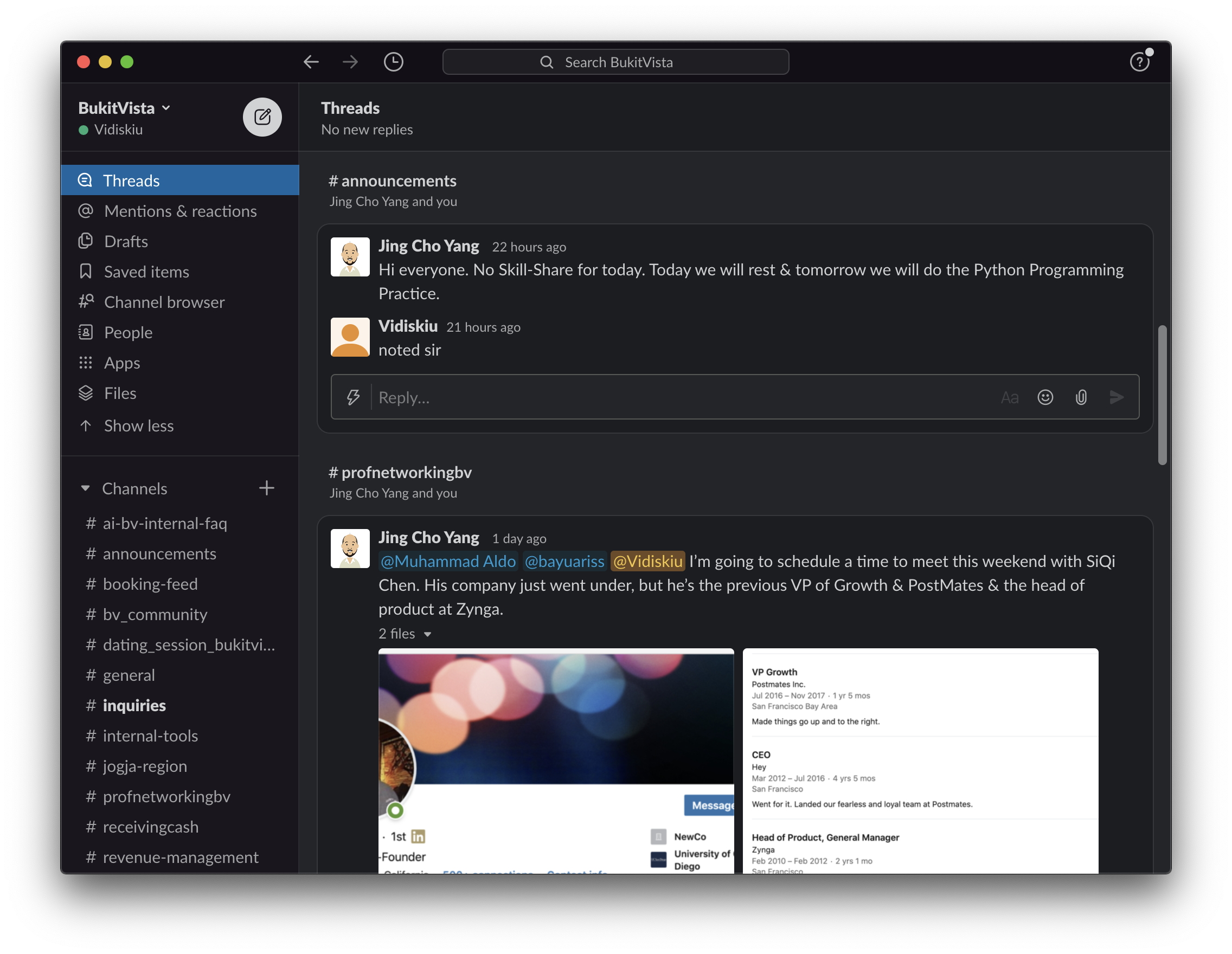 Setting Status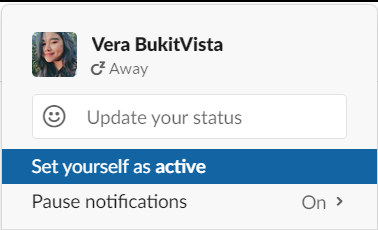 ALWAYS. UPDATE. YOUR. CURRENT. STATUS.
Whether you're online, away (long & short terms; go to the washroom, having lunch, online class), day off, etc. Here are some of the insights of "For Bukit Vista" status:
🏡 Working Remotely = (special case since the pandemic) when you're working outside your usual place (home), usually in cafes, malls, etc → to set expectations that you're currently outside (new environment)
🚌 Commuting = when you're travelling from one place to another (usually long distance: from one city to another)
🤒 Out Sick = basically when you took a day off (or no day off) due to sick
🏖️ Vacationing = full day off, on a vacation.
📴OFF = there are no specific emoji for day offs, so feel free to be creative with the emoji but do clarify that you're off
Why you need to actively update your status? to set expectations to others on your current situation or well-being. So people don't need to wait without certainty due to the unclear status.