My name is Vito, I'm a back-end developer at a leading hospitality company based in Bali, where I orchestrate the intricate gears that power our mobile applications, internal websites, and drive the seamless flow of service notifications. With a passion for crafting robust and scalable systems, I thrive on turning complex challenges into elegant solutions. Whether it's optimizing data management for our user-friendly apps, ensuring the reliability of our internal platforms, or orchestrating the timely delivery of essential notifications, I'm committed to providing a technology backbone that enhances our guests' experience and empowers our teams.
At our hospitality company, innovation is at the core of our mission, and it's not limited to just enhancing the guest experience. We're equally committed to the growth and transformation of our team members. Last week, we hosted a BV E Talk event that not only showcased our dedication to innovation but also paved the way for positive transformation within our organization.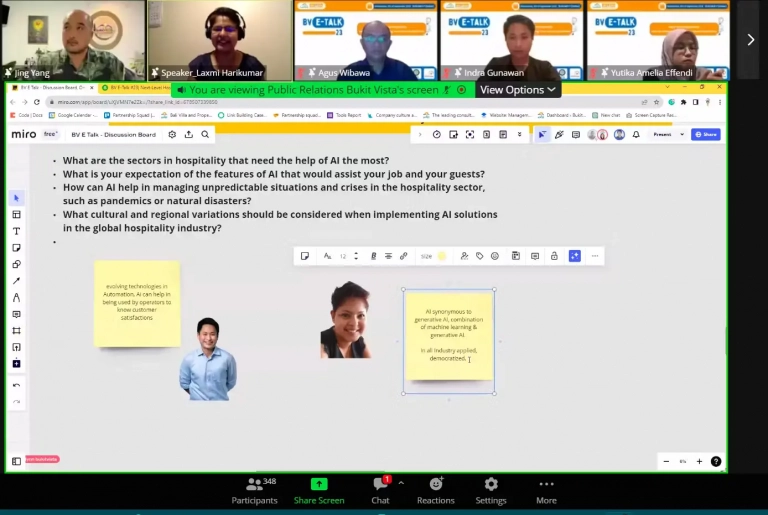 The BV E Talk event was a remarkable gathering, with an impressive 363 participants joining the discussion. The event was not only smooth and well-executed but also engaging and thought-provoking. The feedback we received from 133 participants reflected favorably on the event, earning it an impressive rating of 4.47 out of 5 on the scale.
While the positive feedback was heartening, we believe in the spirit of continuous improvement. It's through feedback and self-assessment that we grow and adapt to the ever-evolving hospitality landscape. The feedback highlighted some areas for improvement, including adjusting the pace of presentations, optimizing webinar timing, ensuring speaker quality, and staying abreast of innovative developments.
These insights are invaluable as they guide us on our path toward excellence. We recognize the importance of adapting and fine-tuning our approach to meet the evolving needs of our guests, employees, and partners. Our commitment to innovation and continuous improvement remains unwavering.
Whether you're a future guest seeking exceptional experiences, a prospective employee eager to be part of a team that values growth and innovation, or a potential partner interested in collaborating with an organization that is dedicated to excellence, we invite you to join us on our journey of transformation and innovation. Together, we can create a brighter future for the world of hospitality.