Hey there, it's Feby! I'm thrilled to share my insights on the current property demand and market in Canggu. Having spent countless hours studying the rental market trends and feedback from guests during my time at Bukit Vista, a rental property management company in Bali, I've gained a deep understanding of what drives property demand and the varying investment opportunities in this beautiful part of the world. So, grab a cup of coffee and join me as we consider whether to invest in Canggu.
If you are an investor and love Bali, considering investing property in Bali is highly recommended. Canggu, a coastal village and beach resort area located in the south of Bali, Indonesia, is one of the most popular destinations for tourists and investors alike. 
Home for its vibrant culture, stunning natural scenery, and world-class surfing spots, also with its growing popularity and increasing demand for property, Canggu has become a hotspot for real estate investment. 
In this article, we will discuss why investing property in Canggu is a wise decision, property options available, market trends and forecasts, and how property managers can help maximize your investment.
Why Invest Property in Canggu?
Canggu has seen a significant increase in property demand in recent years, particularly among foreign investors. The reasons for this surge in demand are as follows:
Growing Tourism Industry: 
Canggu's tourism industry has been steadily growing over the past few years, with an increasing number of tourists visiting the area each year. As a result, there is a growing demand for rental properties in Canggu, making the decision to invest in property in Canggu a wise choice for those looking for a steady rental income.
Booming Property Market: 
The property market in Canggu is booming, with a consistent increase in property prices over the years. Investing property in Canggu can result in a high return on investment (ROI) due to the expected appreciation in property values.
Beautiful Natural Scenery: 
Canggu is blessed with breathtaking natural scenery, from rice paddies to volcanic mountains, making it an attractive destination for both tourists and investors.
Vibrant Culture: 
Canggu is known for its vibrant culture, which attracts people from all over the world. With an influx of expats settling in the area, there is a growing demand for high-quality residential properties.
How much budget is needed for a villa in canggu
To buy a modern villa in Canggu, consisting of 1-3 rooms with a 25-year lease, expect to pay around $225,000 $350,000.
Cheaper villas in the $100,000-$150,000 range are available, but are usually located further from the beach or have short leaseholds. It's also worth noting that the minimum time required to leasehold a property is around 20-30 years.
Alternatively, consider buying a slightly older villa and renovating it to modern standards, or buying an off-plan villa, which can be cheaper than pre-existing villas with comparable size and specifications.
To build a villa, expect to pay around $500 to $800 per square meter for construction, not including furniture. The current market price of land is around $1000-$1700 per are per year. Additionally, you'll also need to obtain an IMB and a Pondok Wisata license, and budget for a 1% notary fee and 5% agency commission if using their services. All in all, expect to pay at least $220,000 to build a high-quality 200 square meter villa on a 3 are land in Canggu.
Sounds complicated? Our community experts of real estate agents and construction service can help you find the perfect property for you.
Property Options in Canggu
Canggu offers a wide range of property options for investors, including villas, apartments, and land. Here are some of the most popular options:
Villas: 
Canggu is known for its luxurious villas, which offer breathtaking views of the surrounding natural scenery. Villas are the most popular type of property in Canggu, and many investors prefer to purchase villas as they provide a high ROI.
Apartments: 
While not as popular as villas, apartments in Canggu are still a viable investment option. They are often more affordable than villas and are an excellent choice for investors on a budget.
Guesthouse: 
Guesthouses, on the other hand, are usually larger and more commercial in nature. They offer a range of rooms or suites for rent, and often come with amenities like breakfast, a swimming pool, and 24-hour reception services. 
Market Trends and Forecast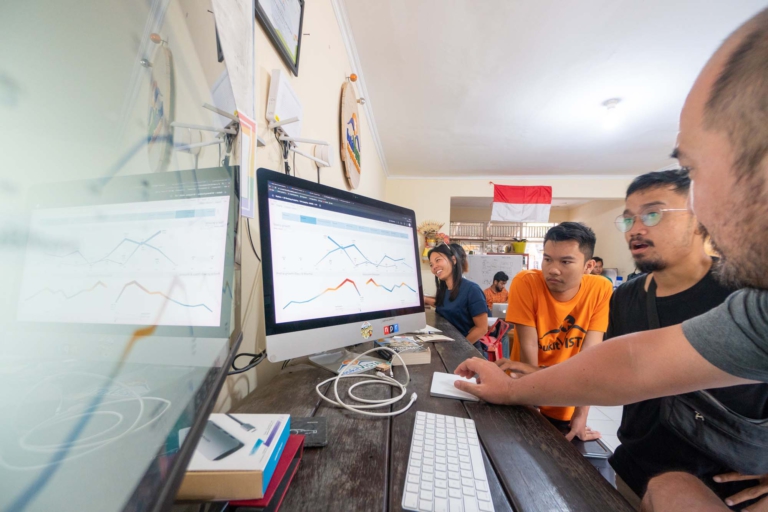 The market trends and forecasts for the property market in Canggu are positive. Canggu's popularity as a tourist destination continues to grow, and this has led to a significant increase in demand for rental properties in the area. This growth is expected to continue in the coming years, and as a result, the property market is expected to remain strong.
According to data from the Bali Real Estate Association (REI), more than 100 villas were sold in Bali in 2022, representing an increase of around 20-30%, compared to the previous year. The selling price for each unit ranged from IDR 1.5 billion to IDR 5 billion.
The rental market in Canggu is expected to remain strong, with high occupancy rates throughout the year. This is due to the growing number of tourists visiting the area, particularly those looking for a more relaxed and laid-back atmosphere compared to the bustling areas of Kuta and Seminyak.
In terms of property development, there has been a significant increase in the number of new property projects in Canggu in recent years. This trend is expected to continue in the coming years, with a particular focus on luxury villas and boutique hotels.
How Property Managers Can Help You to Investing Property in Canggu
Investing property in Canggu can be a daunting task, particularly for foreign investors. That's where property managers come in. Property managers can help you to investing property in Canggu optimally by:
Local Market Knowledge: Property managers in Canggu have extensive knowledge of the local real estate market, including property values, rental rates, and investment trends. This information can be invaluable for investors looking to make informed investment decisions.
Property Management Services:

Property managers can handle the day-to-day management of investment properties, including advertising, tenant screening, rent collection, maintenance, and repairs. This can save investors time and effort while ensuring that their properties are well-maintained and generating maximum returns.

Guest Relations:

Property managers can also help investors maintain good relations with their tenants, ensuring that they are satisfied while staying at your property. This can lead to good reviews on your property listing on OTA and make them to come back to your property.

Property Maintenance:

Property managers can help investors maintain their properties in good condition, ensuring that they remain attractive to tenants and retain their value over time. This can involve regular inspections, preventative maintenance, and timely repairs.
In summary, property investment in Canggu can be challenging for foreign investors. We understand that managing a property can be tough, which is why we're here to make it easier for you. Bukit Vista has been working with property owners for over 8 years, building strong relationships and helping more than 200 properties reach their full potential. 
Don't hesitate to reach out to us for a friendly consultation and let us take the load off your shoulders. Let's work together to get the most out of your investment!