In the realm of Bali's thriving property market, there exists a shining example of success—Rory, a professional photographer hailing from Australia, and his enchanting abode, Villa Raava. The success story that unfolds is not just about a beautiful villa but a strategic partnership with a villa management company, showcasing the unparalleled benefits of expert villa management in Bali.
Rory, along with his wife Casey, hasdocumented their travel adventures on their YouTube channel and also shared valuable insights into the nuances of Bali villa investment. Villa Raava stands as a testament to their success, and the journey has been further elevated through a fruitful collaboration with Bukit Vista. 
The beginning of a villa management in Bali partnership
Bukit Vista's journey with Rory began with more than just transactions; it was about building connections. Invited to our exclusive dinner program, the Round Table Talk, Rory and Casey engaged in enriching conversations with fellow property investors and the Bukit Vista team. This laid the foundation for a partnership that extended beyond the conventional client-service provider relationship.

The collaboration blossomed as ideas were exchanged on revenue strategies, market trends, and the comprehensive suite of services offered by Bukit Vista. It wasn't just about managing a property; it was about nurturing a shared vision for success in the dynamic world of Bali's rental market.
The collaboration has proven to be a game-changer, marked by the hosting of Villa Raava's first guest, who left an impressive 5-star review. The success story continues, with a stellar 4.7-star rating and an impressive 74% in net profit—an undeniable testament to the effectiveness of Bukit Vista's villa management services.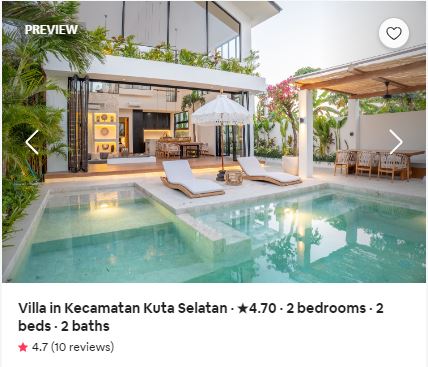 Personalized approach and complete villa management service
What sets Villa Raava apart is not just the stunning locale, but the personalized touch brought to guests through Bukit Vista's property management services. The commitment to excellence in hospitality has not only attracted guests but also solidified the partnership, ensuring a promising future for both parties involved.
For Australian property owners and investors eyeing Bali as a lucrative investment destination, the success of Villa Raava is an enticing proposition. The comprehensive villa management services provided by Bukit Vista promise not just revenue but a roadmap to a successful Bali villa investment.
As Rory and Villa Raava continue to bask in the success of their collaboration with Bukit Vista, the possibilities seem limitless. With a focus on personable hosting services and unparalleled property management, the partnership is poised to endure and evolve.
If you're inspired to emulate Rory's success, unlock the potential of your rental property, and establish meaningful connections, the path is clear. Join hands with Bukit Vista and embark on a journey where success knows no bounds.