Hello, I'm Yosefine, part of the dynamic team at HR Bukit Vista, where we believe in pushing the boundaries of property management in Bali. In this article, I want to share the wealth of knowledge and insights that can be gleaned from the innovative approaches at Bukit Vista. By understanding the role of property management companies, you, as a property owner or investor, can unlock a world of benefits that go beyond the conventional and elevate your real estate endeavors to new heights. So, let's embark on this journey together and explore the profound advantages that come with mastering the art of property management.
What is a Property Management Company?
Property management, at its core, serves as the bridge between property owners and the market, overseeing day-to-day operations while aiming to maximize the value and appeal of the properties under its care. These companies handle various responsibilities, from tenant relations and property maintenance to optimizing revenue streams for owners. Essentially, they ensure properties are well-maintained, attract the right clientele, and generate optimal returns for their owners. In a vibrant real estate market like Bali, property management companies play a crucial role in enhancing the overall value of properties by employing strategic, data-driven approaches to meet both owner and guest needs.
In the realm of property management, companies like Bukit Vista stand as pioneers, shaping the landscape of real estate in destinations like Bali. Bukit Vista doesn't merely oversee properties; it crafts experiences, elevates potential, and redefines hospitality. With a focus on innovation and a commitment to maximizing property value, Bukit Vista specializes in managing an array of properties, from luxury villas to unique vacation homes and everything in between.
What Does a Property Management Company Do?
At Bukit Vista, there are so many services that we provide at Bukit Vista:
Data-Driven Management
With a keen focus on market intelligence, Bukit Vista transforms the art of setting prices into a strategic masterpiece, enhancing revenue streams through optimal occupancy rates. Our approach is a symphony of meticulous market price analysis and vigilant real-time monitoring, a dynamic pricing strategy finely tuned to the ever-shifting market landscape. Rooted in data-driven insights, Bukit Vista's prowess lies in tapping into current market opportunities, placing them at the forefront of the industry. The orchestra of our dynamic pricing strategy is composed of comprehensive, real-time analysis, orchestrating a harmonious alignment of property pricing with the market's ebb and flow, ensuring not just success but a crescendo of continual growth for property owners.
Sales and Marketing Optimization
In the dynamic realm of sales and marketing, Bukit Vista stands as a trailblazer, employing an aggressive yet strategic approach that transforms properties into magnetic experiences. With a mastery over professional marketing strategies, Bukit Vista harnesses the power of high-quality photography, a robust online presence, and a dynamic social media strategy to enhance the visibility and allure of properties. Our comprehensive marketing services include captivating photography and videography, engaging content creation like infographics, and meticulous optimization of property listings on various travel platforms. This is further amplified by a symphony of promotion across their website and social media channels, coupled with strategic outreach initiatives. The art of occupancy optimization is finely tuned at Bukit Vista, leveraging cross-selling through their adept hosting and reservation team. Recognizing that no masterpiece sells itself, marketing is not just a service but the cornerstone of Bukit Vista's business proposition. From capturing the essence of properties with professional equipment to orchestrating a compelling online presence, Bukit Vista commits to showcasing and elevating properties, ensuring they stand out in the competitive Bali real estate market.
Personalized Property Management

Bukit Vista stands out in the property management industry by placing a strong emphasis on personalized property management. They recognize that each property owner has unique needs and requirements. With this in mind, we approach every situation with a tailored strategy, crafting customized solutions that align perfectly with each property's specific characteristics and the owner's objectives. No matter the requirement, Bukit Vista is committed to identifying and implementing the ideal solution exclusively for each client. This bespoke approach ensures that each property is not just managed but enhanced in a way that reflects the individuality of the owner and the uniqueness of the property, ensuring the best possible outcome in the vibrant Bali real estate market.
Additional Services Offered by Property Management Companies
Guest Relations Management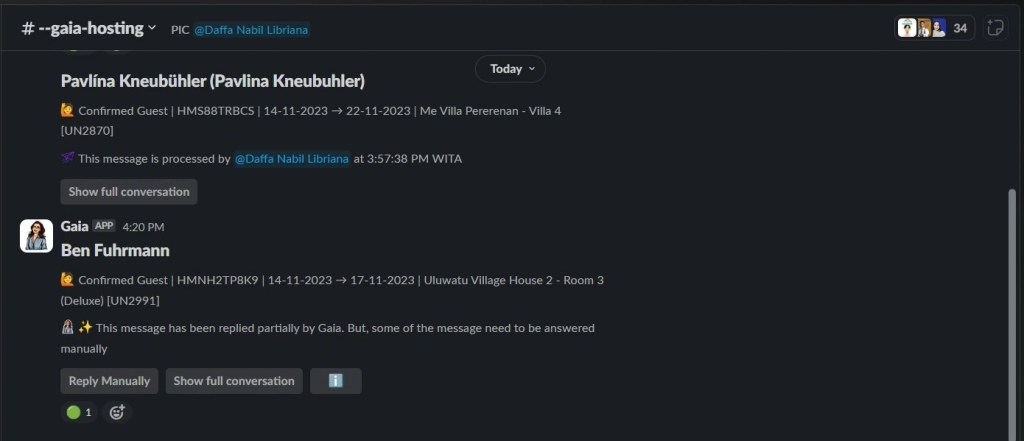 Bukit Vista emphasizes the significance of guest interactions in their property management services. We dedicated guest support team offers comprehensive hosting services, covering all aspects from setting up property listings to managing guest check-ins and overseeing guest reviews. This enhances the property's reputation and ensures a pleasant experience for guests. A notable aspect of our service is the use of advanced technology, such as a proprietary AI chatbot, which plays a crucial role in providing prompt and accurate responses to guests' queries and concerns, thereby maintaining efficient and responsive communication. This technology-driven approach, combined with their experienced team, has led to a significant achievement in guest satisfaction, with Bukit Vista hosting more than 50,000 guests and achieving over 80% guest satisfaction.
Performance Metrics and Goals
Elevate your property management strategy with Bukit Vista's innovative performance review, meticulously crafted by our expert Business Intelligence Team. In the data-driven landscape of property management, we offer a unique, tailored experience that goes beyond traditional analysis. Our approach involves regularly delivering infographic or video explanations about your property's monthly performance. These insights are transformative, offering more than mere numbers—they serve as a compass for informed decision-making. Imagine a collaborative partnership where our experts not only provide comprehensive reports but also work alongside you to integrate these insights into your operational strategy seamlessly. With Bukit Vista's Personalized Performance Review, experience the power of data-driven decision-making, customized to meet the unique needs of your property, leading you towards a future of informed growth and unparalleled success.

Understanding the Market
In the intricate dance of property management, staying ahead of market trends isn't just a necessity—it's a craft mastered by companies like Bukit Vista. Our approach goes beyond mere awareness; it's about understanding the pulse of the market and translating that knowledge into invaluable insights for property owners. Navigating the ever-evolving landscape of real estate, we don't just follow trends; we anticipate and embrace them. The expertise gleaned from staying abreast of market dynamics allows us to offer not just advice but a strategic partnership to property owners, empowering them to make informed and astute investment decisions. At Bukit Vista, market understanding isn't just a service; it's the compass guiding property owners towards a future where their investments not only thrive but become a testament to strategic foresight. Explore the synergy of market intelligence and property management with Bukit Vista – where understanding the market is not just a practice, but an art.
Case Studies and Success Stories
Bukit Vista's innovative approach in property management is vividly demonstrated through several case studies and success stories:
1. Bingin Sun & Moon Villas Transformation
At Bingin Sun & Moon Villas, the partnership with Bukit Vista, starting in March 2020, marked the beginning of a journey towards innovation and guest-centric excellence. A key milestone was achieved in July when Property Manager Tendi led a transformative process, enhancing various aspects of the villa to elevate the guest experience. This transformation included a revamped staff management approach, introducing clear roles, structured work schedules, and transparent policies. A new Front Office was also established, offering a seamless self-check-in experience while maintaining a human touch with staff availability.
2. Villa Tortoise's Evolution
Villa Tortoise, part of the Bukit Vista family since 2018, underwent significant renovations in 2022 and 2023. The transformation journey involved modernizing the kitchen, bedrooms, and lounge areas. The kitchen was redesigned with a minimalistic approach, featuring sleek lines and high-quality materials. Bedrooms were given a contemporary facelift focusing on comfort and style, and the lounge area was updated into a relaxing and entertaining space with comfortable furniture and smart entertainment systems.
3. Reviving Goa Giri Hill
Goa Giri Hill, located in Nusa Penida, faced low occupancy rates in the middle of 2023. Bukit Vista's operations leader Marcel, along with co-founder Wayana, spearheaded the property's transformation. They introduced unique decorations, bean bag chairs, umbrellas, lamps, and bed decorations, significantly enhancing the property's appeal. This simple yet effective renovation significantly impacted Goa Giri Hill's performance and guest experience.
4. Uluwatu Village House Makeover
Uluwatu Village House, originally comprising 5 lumbung houses and 2 standard rooms, was transformed into a stunning property featuring 2 lumbung houses, 4 new industrial-style units, 2 standard rooms, a guest-friendly lobby, and luggage storage facilities. Bukit Vista's partnership was crucial in this transformation, providing expertise in property management and marketing. The ongoing relationship between Uluwatu Village House and Bukit Vista post-renovation highlights the deep trust and value embedded in this partnership.
Conclusion
In the enchanting world of Bali's real estate, Bukit Vista isn't just a property management company—it's a creator of unforgettable experiences. From luxury villas to tree houses, our innovative approach goes beyond managing properties; it's about elevating them to their maximum potential. With a blend of data-driven strategies, personalized management, and cutting-edge marketing, we redefine hospitality in Bali. Our AI-driven guest relations, showcased by hosting over 50,000 guests with an 80% satisfaction rate, reflect our commitment to seamless and efficient service. The Personalized Performance Review, a transformative experience, provides a compass for informed decision-making, demonstrating our dedication to transparency and collaboration. Our success stories, such as the transformations of Bingin Sun & Moon Villas, Villa Tortoise, Goa Giri Hill, and Uluwatu Village House, reveal not only our proficiency but our ability to breathe new life into every property.
If you're eager to invest in Bali's real estate but find hurdles in your way, Bukit Vista emerges as the comprehensive remedy you've long sought. Experience a transformative partnership with us, where your property transcends mere bricks and mortar, evolving into a beacon of strategic brilliance and unparalleled achievement. Join our vibrant community and witness your investment thrive amidst Bali and Jogja's enchanting landscape, guided by our innovative approach and unwavering commitment to your success.