In the rental villas business, property maintenance services play a pivotal role in ensuring the satisfaction of your guests. Guest experience holds utmost importance, as dissatisfied guests may leave negative reviews, impacting your reputation and business.
As a villa owner and manager, your responsibilities range from guest hospitality and rent collection to overseeing repairs. Prioritizing property maintenance services is essential to uphold the value of your villas and ensure the safety of your guests.
In this guide, we emphasize the significance of making property maintenance a priority. Additionally, we provide valuable tips, checklists, and insights on estimating maintenance service costs. By following our recommendations, you can streamline your rental villa business, delivering an unparalleled experience for your guests.
Why Property Maintenance Services is Vital
Enhance Property Value:
A well-maintained property holds higher value and popularity. Regular upkeep ensures satisfied renters, boosting rental prices and overall appeal. Neglecting maintenance can adversely impact both property value and rental income.
Satisfactory Guest Experience:
Inadequate property maintenance can lead to dissatisfied renters and negative reviews. Providing top-notch service and well-maintained amenities ensures a positive guest experience, safeguarding your property's reputation on rental platforms. As this can lead to negative reviews on your rental property page or online travel agent (OTA)
Cost Reduction
Implementing a robust property maintenance plan reduces risks, extends equipment life, and cuts unforeseen expenses. Be prepared for potential issues like floods or fires, minimizing financial losses and allowing your team to focus on delivering exceptional service.
Also read: Avoid These 5 Mistakes To Increase Your Bali Villa Bookings 
How to Estimate Property Maintenance Services Cost for Rental Villas
To develop a financial plan to estimate the cost of maintaining a rental villa, you can follow some of these rules of thumb by Homee. Although there are different approaches, each rule produces the same number and goal. That is, to make sure that you have enough money set aside for things like routine maintenance and unexpected things that happen.
Some key rules to consider, depending on your rental property type, include:
The 50% Rule
You should set aside half of your rental villa income each month. You will need to pay for things like repair and maintenance costs, taxes, insurance, and other things related to your rental property maintenance services
The 1% Rule
Maintenance will cost about 1% of the value of the property each year. So, if your rental villa is worth $250,000, then it will cost about $2,500 to keep it in good condition.
Square Footage Rule
Annual maintenance costs should be budgeted at $1 per square foot. For example, the annual maintenance charges for a 2,000-square-foot rental are $2,000 per year.
The formula above is a good way to figure out how much money you should set aside. Keep in mind that you may not use the whole budget, and instead choose to use the extra money for big repairs or upgrades in the next year or year. 
Property and House Maintenance Checklist
In general, property owners or managers usually do the following property maintenance service list to take care of their rental villas:
Maintain cleanliness in all rooms, particularly the entrance or front guest room. because it is critical to make a positive impression on guests in order to preserve the guest experience,

Keep mechanical systems, such as heating and cooling, electricity, and plumbing, in good working order,

Make sure all kitchen amenities are complete, neatly arranged, and in good condition

Always make sure your rental villas's wifi or internet connection is working properly. If a complaint or a problem arises, address it as quickly as feasible,

Roofs, attics, pathways, and driveways should all be maintained,

Any pest or pest attack at your rental villas should be dealt with as quickly as possible,

Keep the common areas of the multifamily property clean and well-maintained,

To contribute to providing a safe living environment, provide smoke, carbon dioxide, and radon detectors (in specific geographic locations),

Respond to repair requests immediately and complete fixes such as

HVAC issues

, pipe blockages or leaks, safety issues such as broken locks, or mold issues,

Regularly inspect the exterior and inside to track typical wear and tear and spot minor issues before they become serious ones.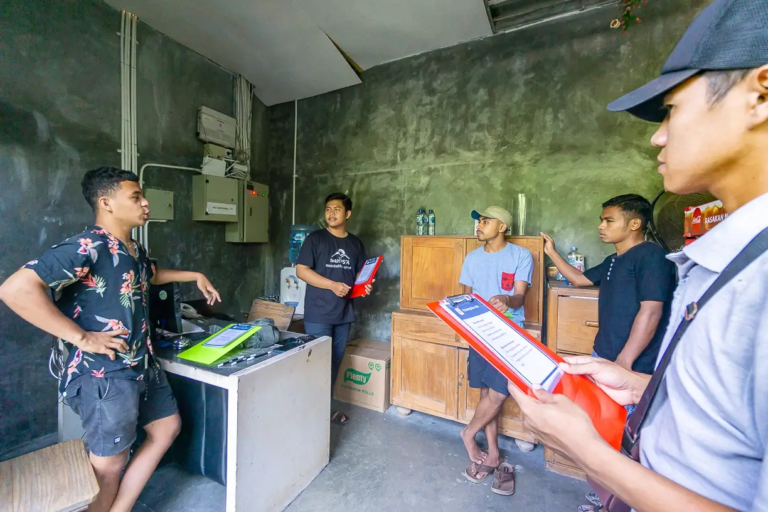 Property Care Management Service
Opting for professional villa maintenance services in Bali presents numerous advantages for property proprietors. Entrusting your villa's care to seasoned professionals guarantees worry-free ownership and maximizes its potential. At Bukit Vista, we deliver comprehensive property maintenance services customized to the distinct needs of our full-board partners. 
Beyond property maintenance, our community service partners features experts in pest control, cleaning services, and woodworking. These specialists play a crucial role in preserving the impeccable condition of your property. By engaging our community experts, you ensure your villa remains consistently spotless and pest-free, providing a secure and delightful experience for residents and guests alike. 
Ready to maintain your rental property and get maximum occupancy? Contact us today and find out how we can help manage rental property maintenance services for your unique properties in the best condition.