Hello, I'm Jey, currently interning with the Human Resource team at Bukit Vista. You might have come across my previous blog posts and articles, where I've shared insights about our company culture and stories from our dedicated employees. Today, I'm excited about recounting the story of our hosting team, who recently had a splendid dinner with one of our esteemed guests.
In our Bali base office of Bukit Vista, Amanda, an intern of the hosting team, recently shared a heartwarming story about an unexpected and delightful dinner with a special guest. This encounter was initiated by none other than Mr. Jing, the CEO of Bukit Vista, and it unfolded into a memorable evening filled with camaraderie and cultural exchange.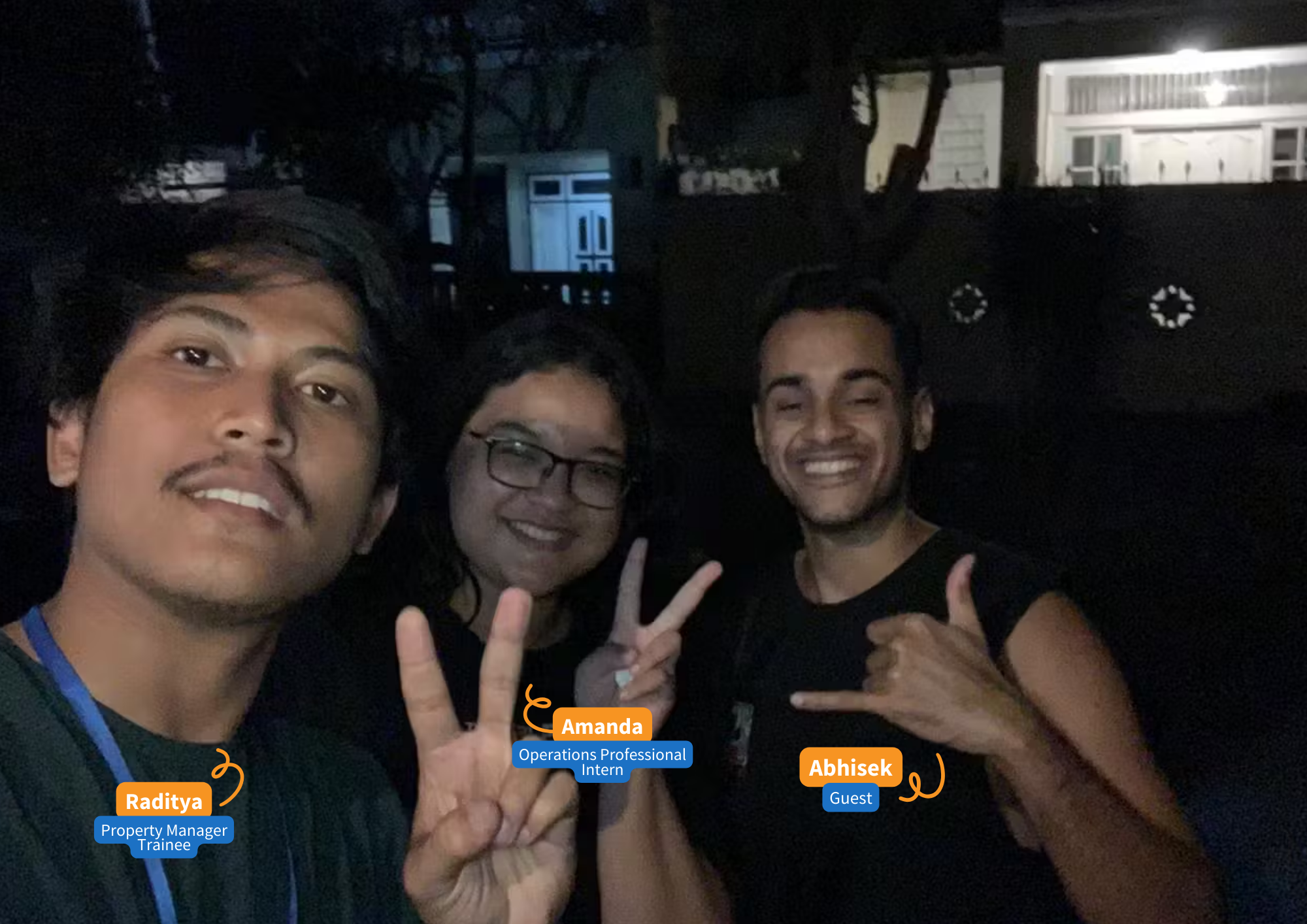 A Mission with a Twist
The story began with an unusual mission assigned by Jing, the CEO. He tasked the hosting team with a rather exciting challenge – to find some friendly folks in Singapore and Malaysia who could assist in acquiring some liquor for the office. It was a fun and unique request that set the team on a quest to establish connections beyond borders.
Amanda and teams embarked on their quest and swiftly reached out to Abhishek, a friendly guest hailing from Singapore. Abhishek, a guest at Puri Kelapa, hails from India and currently resides in Singapore. He came to Bali for a short stay to rejuvenate his mind while still managing work commitments remotely. Despite being here for relaxation, Abhishek shared about a recent incident where he had a fall resulting in a facial injury. During his visit, Abhishek brought a bottle of alcohol from Singapore that we asked him. He also mentioned his involvement with a startup company based in Singapore. Abhi not only rose to the occasion but also exhibited the warmth and hospitality that Bukit Vista stands for. In response to their plea, Abhi willingly offered to assist with the liquor procurement, showing immense generosity and a desire to contribute to the Bukit Vista community.
From Liquor to Dinner
In appreciation of Abhi's kindness, the hosting team decided to take things a step further. They extended an invitation to Abhi to visit our office for dinner and to hand over the liquor. This act of gratitude would soon blossom into a delightful evening that none of them would forget.
The Bali base team got to work and prepared a scrumptious feast. The office kitchen buzzed with activity as they cooked up a storm, preparing dishes that represented the rich and diverse culinary heritage of Bali.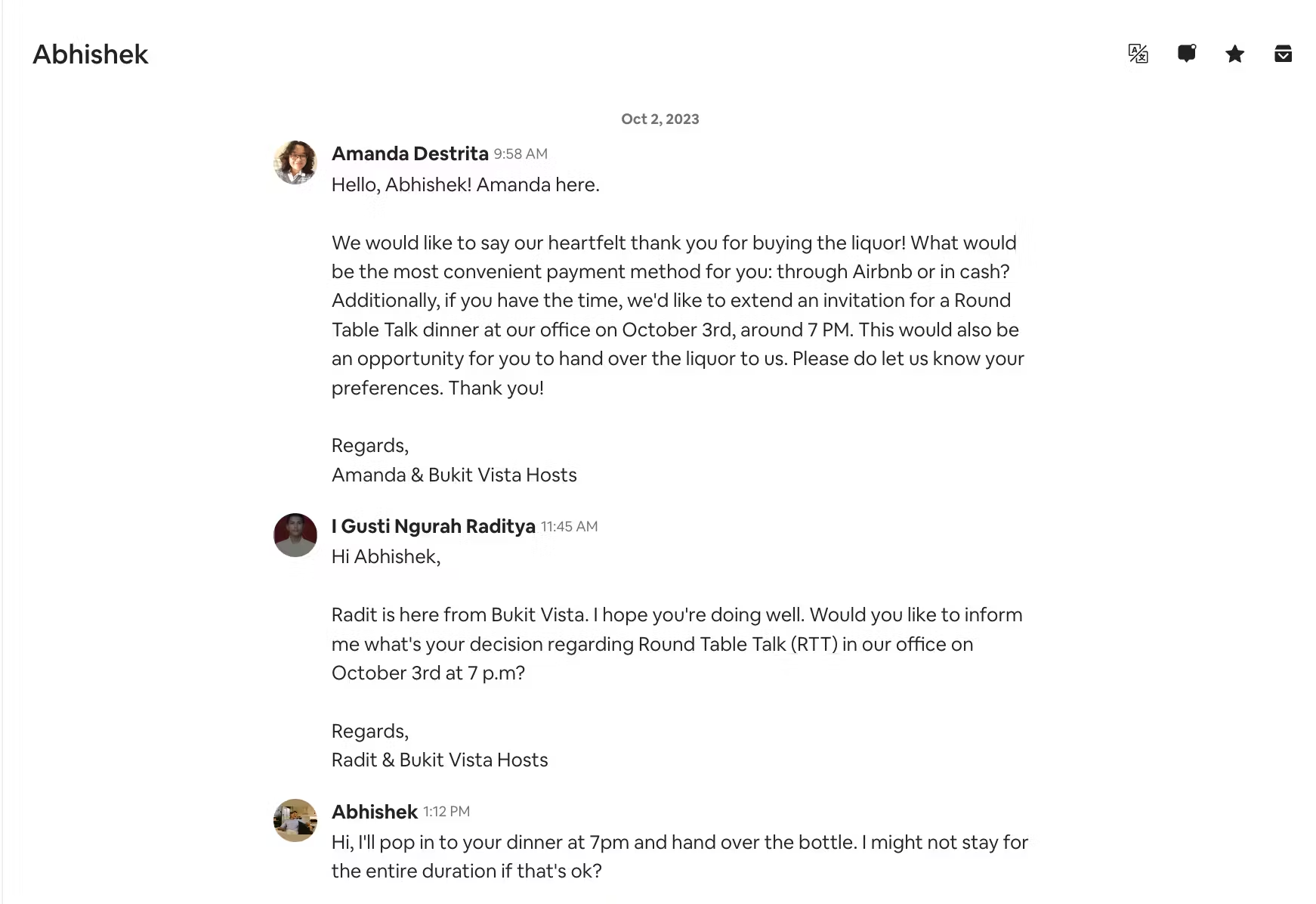 A Memorable Connection
As Abhi arrived at the Bukit Vista offices, he was greeted with smiles and warmth. The dining table was adorned with the delicious dishes the team had prepared, and the liquor he had kindly provided. It was a moment of unity and celebration, a representation of culture that Bukit Vista holds dear – connection, appreciation, and genuine relationship.
The evening didn't just revolve around food and drink; it was an opportunity for cultural exchange and storytelling. Abhi and the Bali base team engaged in a Round Table Talk, sharing their experiences and insights about Bali, Singapore, and their respective cultures. This exchange of stories and ideas added depth to the evening, fostering a stronger connection between individuals from different backgrounds.
By the end of the night, it was evident that Amanda and Bali base team had not only succeeded in their mission to acquire liquor but also in forming a beautiful bond with a guest who had gone above and beyond to support their cause. The delightful dinner had become an unforgettable memory for all involved, cementing the belief that Bukit Vista is not just a company but a community of passionate and hospitable individuals.
Amanda's story is a testament to the unique culture and spirit that thrives within Bukit Vista, a culture where gratitude, kindness, and friendship are nurtured, and where even a simple request can evolve into a heartwarming and unforgettable experience.
Are you interested in discovering more about the fascinating experiences, ideas, and stories stemming from our employees' activities? If so, we encourage you to explore our website.