Hello, I'm Jey, currently interning with the Human Resource team at Bukit Vista. You might have come across my previous blog posts and articles, where I've shared insights about our company culture and stories from our dedicated employees. Today, I'm excited to introduce you to one of the inspiring speakers from our All Hands meeting on August 22nd, 2023 – Chris Brown.
Chris brown. Source: https://www.uc.ac.id/library/chris-brown_menjaga-harmoni-pemuteran-kompas-27-desember-2017-hal-16/
Transforming Hospitality and Marine Conservation at Reef Seen Divers' Resort
Chris Brown, the Director of Reef Seen Divers' Resort, stands out as one such visionary who has not only reimagined hospitality but also made a significant impact on marine conservation. Reef Seen Divers' Resort, a charming getaway hidden in the pristine Bay of Pemuteran Island in Northwest Bali, is at the center of Chris Brown's journey. Chris began his career as a customer service representative for IBM Australia, where he spent eight years of his life between 1981 and 1989. However, his move to Indonesia was a crucial turning point. His eyes were drawn to a new endeavor by Bali's beautiful life. Chris started setting the groundwork for PT Pemuteran Wisata Tirta, the company that is responsible for Reef Seen Divers' Resort, in January 1991. Chris has been working on this project for an incredible 32 years and counting.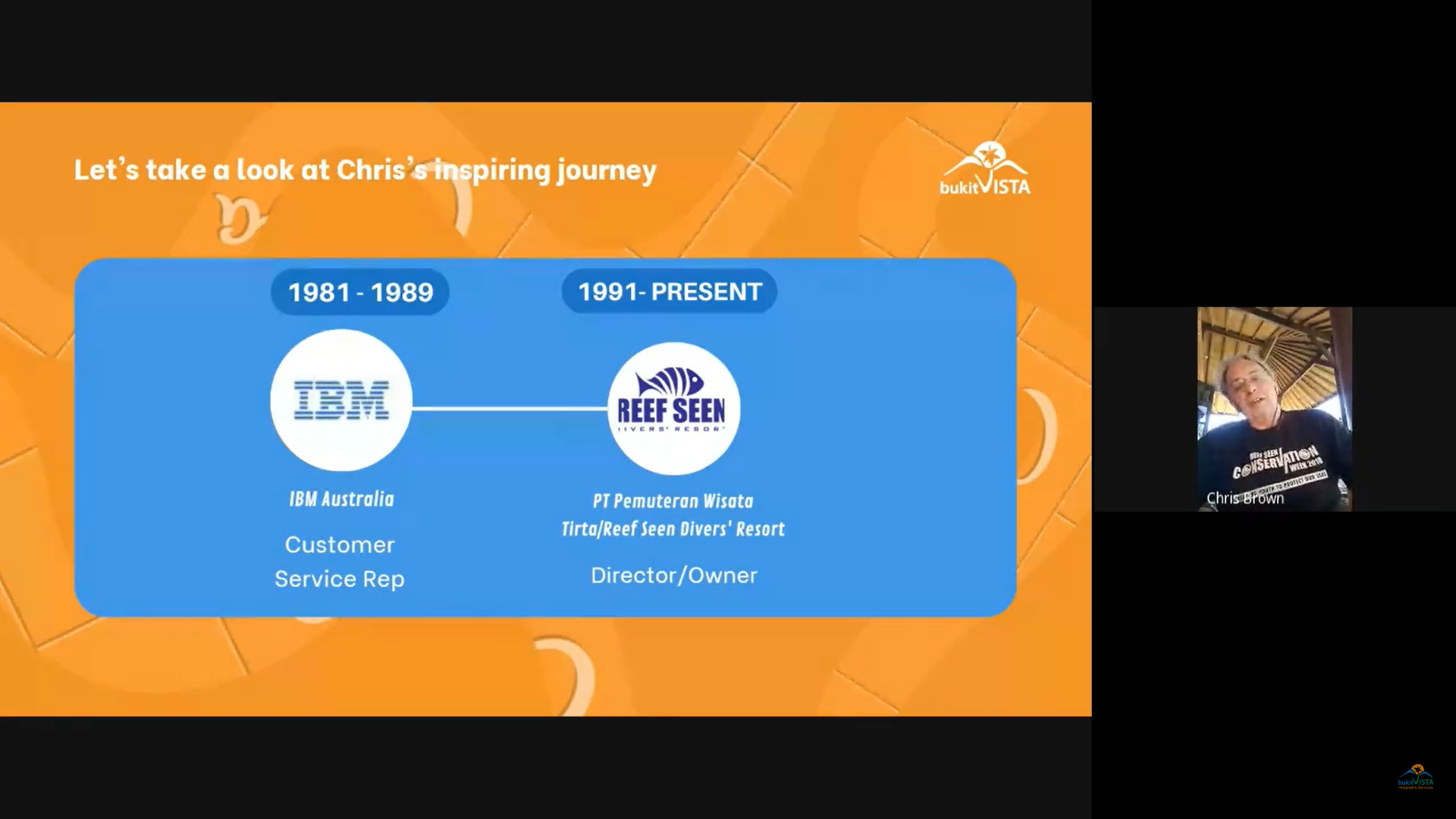 Where Hospitality Meets Marine Conservation Excellence
One of Chris's remarkable achievements is redefining the concept of hospitality. He has seamlessly blended a dive school with a resort, creating a unique and immersive experience for guests. Here, visitors don't just relax by the beach; they embark on a journey of discovery, learning, and contribution to marine conservation.
Chris's journey began when he arrived on Pemuteran Island. He quickly earned the trust of the local community, fostering a shared vision among the island's residents. Destructive fishing practices were curbed, and marine life thrived once more. Today, Pemuteran is renowned for its rich coral reefs and diverse marine organisms, thanks in no small part to Chris's commitment to conservation. Moreover, Reef Seen Divers' Resort actively engages with the local community through eco-social projects, fostering unity and shared purpose. These initiatives not only benefit the environment but also create opportunities for the community.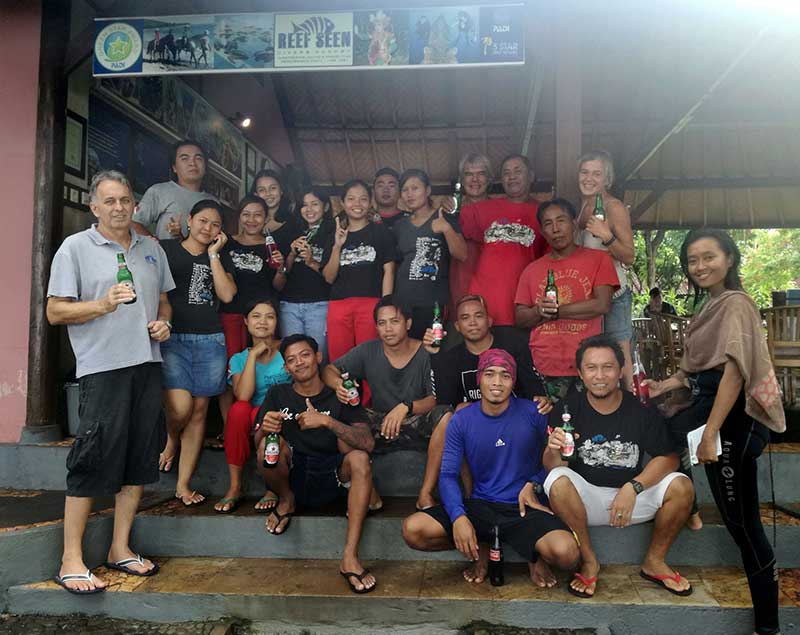 Chris and his staff. Source: https://reefseenbali.com/owner-and-staff/
What sets Reef Seen Divers' Resort apart is its unwavering commitment to marine conservation, evident in every aspect of the resort. Chris's passion for the marine world is reflected in every corner, and his years of diving wisdom shine through in the guidance provided to every guest.
Located within the Coral Triangle, known as the Amazon of the ocean, the resort boasts access to some of Bali's most stunning coral reefs and marine life. Unlike bustling tourist hubs, Pemuteran remained untouched by tourism for many years. However, Chris and Reef Seen Divers' Resort changed that narrative, initiating the protection of local reefs in the early 1990s.
Reef Seen Divers' Resort is more than just a place to stay; it's a haven where exploration and conservation coexist harmoniously. Under Chris's guidance, it has evolved into a destination that provides visitors with an experience that goes far beyond conventional accommodations.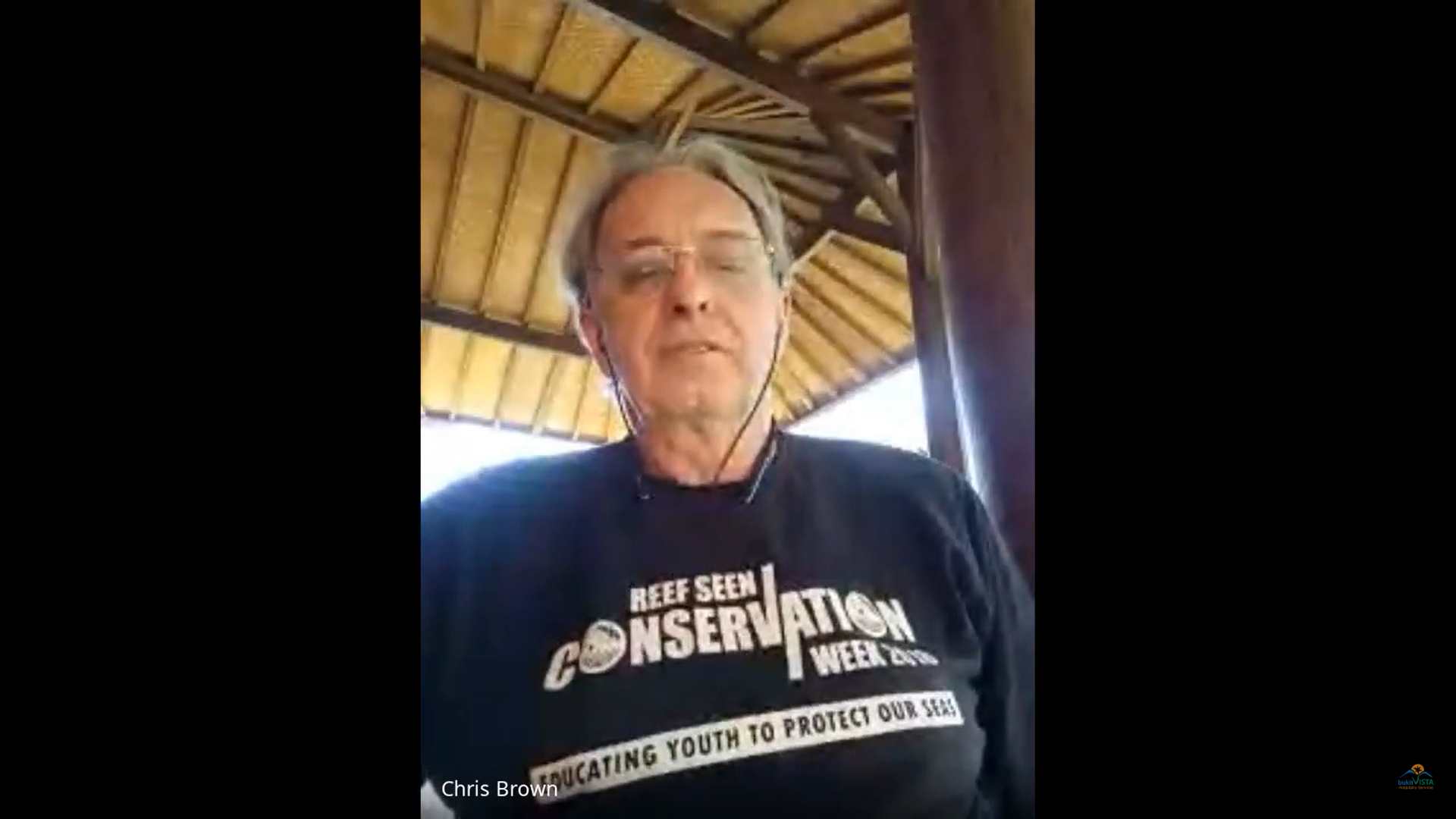 A Blend of Passion and Commitment to Environment
In conclusion, Chris Brown, the Director of Reef Seen Divers' Resort, is a visionary who has redefined hospitality by seamlessly blending it with marine conservation. His journey is a testament to the transformative power of determination, passion, and a deep connection to the environment.
As we reflect on Chris's legacy at Reef Seen Divers' Resort, we are reminded that individuals like him have the potential to make a lasting impact on the world, bridging the gap between hospitality and conservation. His story serves as an inspiration to us all, highlighting the importance of pursuing our passions while working towards a better future for both nature and humanity.
If you're inspired by Chris's journey and interested in reading more about inspirational figures, visit our All Hands page. To consider supporting marine conservation efforts or exploring eco-friendly travel options to make a positive impact on the environment, you can visit the Reef Seen website.