Hello, I'm Jey, currently interning with the Human Resource team at Bukit Vista. You might have come across my previous blog posts and articles, where I've shared insights about our company culture and stories from our other inspirational speaker. Today, I'm excited to introduce you to an inspirational figure who recently graced our All Hands meeting with his presence – Younis Hijazi.
Younis attended the G20 Indonesia Presidency 2022 Summit. Source: https://www.linkedin.com/feed/update/urn:li:activity:7015527046432927744/
Charting a Visionary Transformation
Younis is a visionary in the field of digital transformation, offering us priceless insights from his wealth of experiences and expertise during our All Hands meeting on September 26th, 2023, conducted via Google Meet. His story is strong evidence of the limitless potential for innovation and exponential growth that can be achieved via persistent will and a calculated approach. Younis is the founder of both 10X Indonesia and YouScale. Younis lived in Luxembourg, and in 2005, he began his work there as a junior researcher at Deutsches Forschungszentrum für Künstliche Intelligenz (DFKI) before moving to Bali.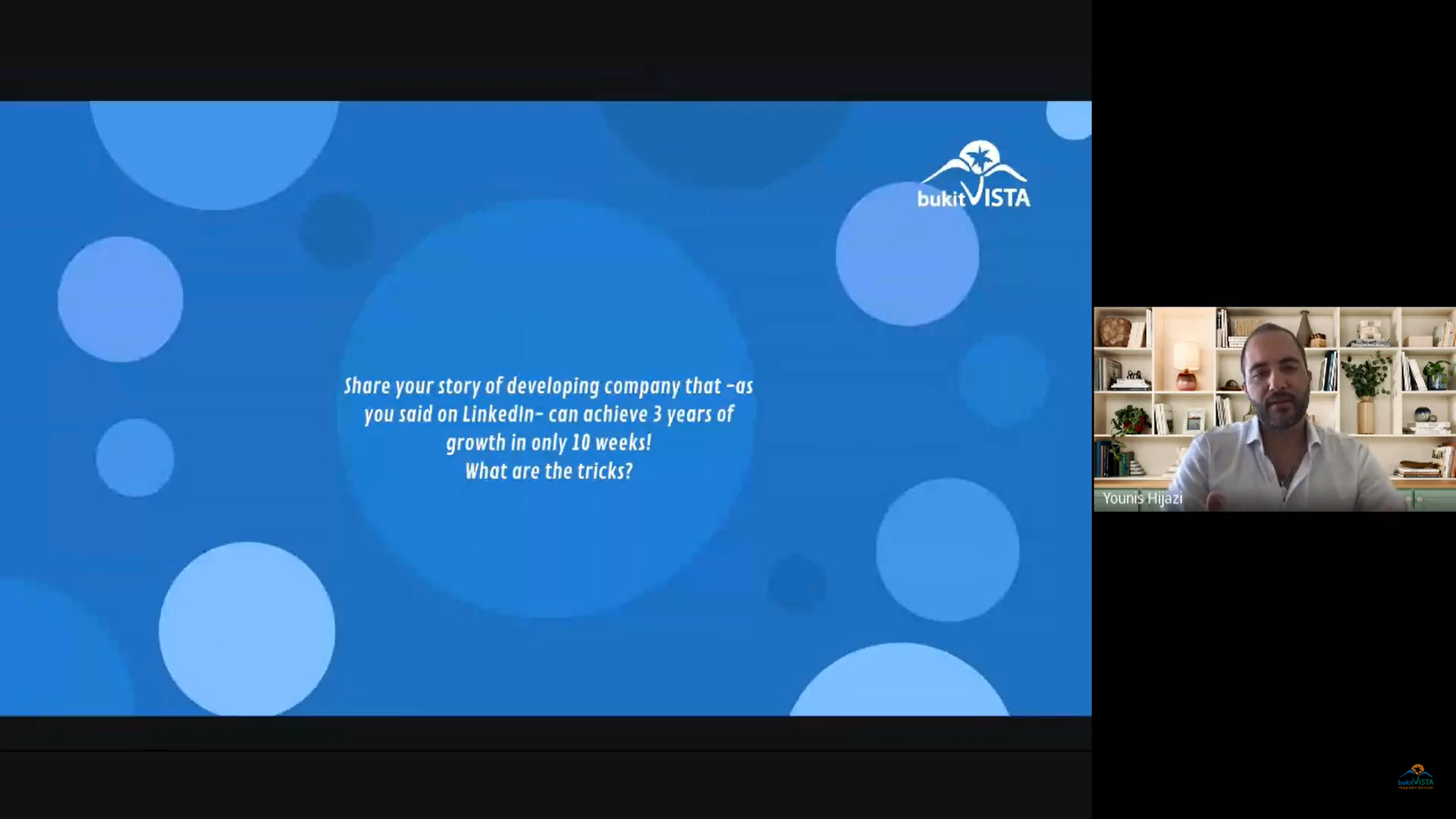 Accelerating Business Growth: Insights and Strategies by Younis
Younis presented his experience in developing companies that achieved three years of growth in just 10 weeks and revealed the strategies used to attain this remarkable success. He highlighted a few key points on how to develop a company and reach its peak development:
Establishing a clear vision and mission is crucial, akin to the North Star guiding a company toward its long-term objectives.
Understanding your current position and your desired destination is vital for achieving exponential growth.
Quantifying the desired growth is essential, whether in terms of profit, contacts, or any other relevant metric.
Data plays a fundamental role in this process, providing the necessary insights for precise progress measurement.
Younis also shared the concept of "10x Indonesia," which revolves around the idea of doing ten times more, whether it's in terms of profit, impact, or any other aspect. This approach is rooted in data-driven decision-making, where you identify the tools and technologies needed to bridge the gap between your current state and your future goals.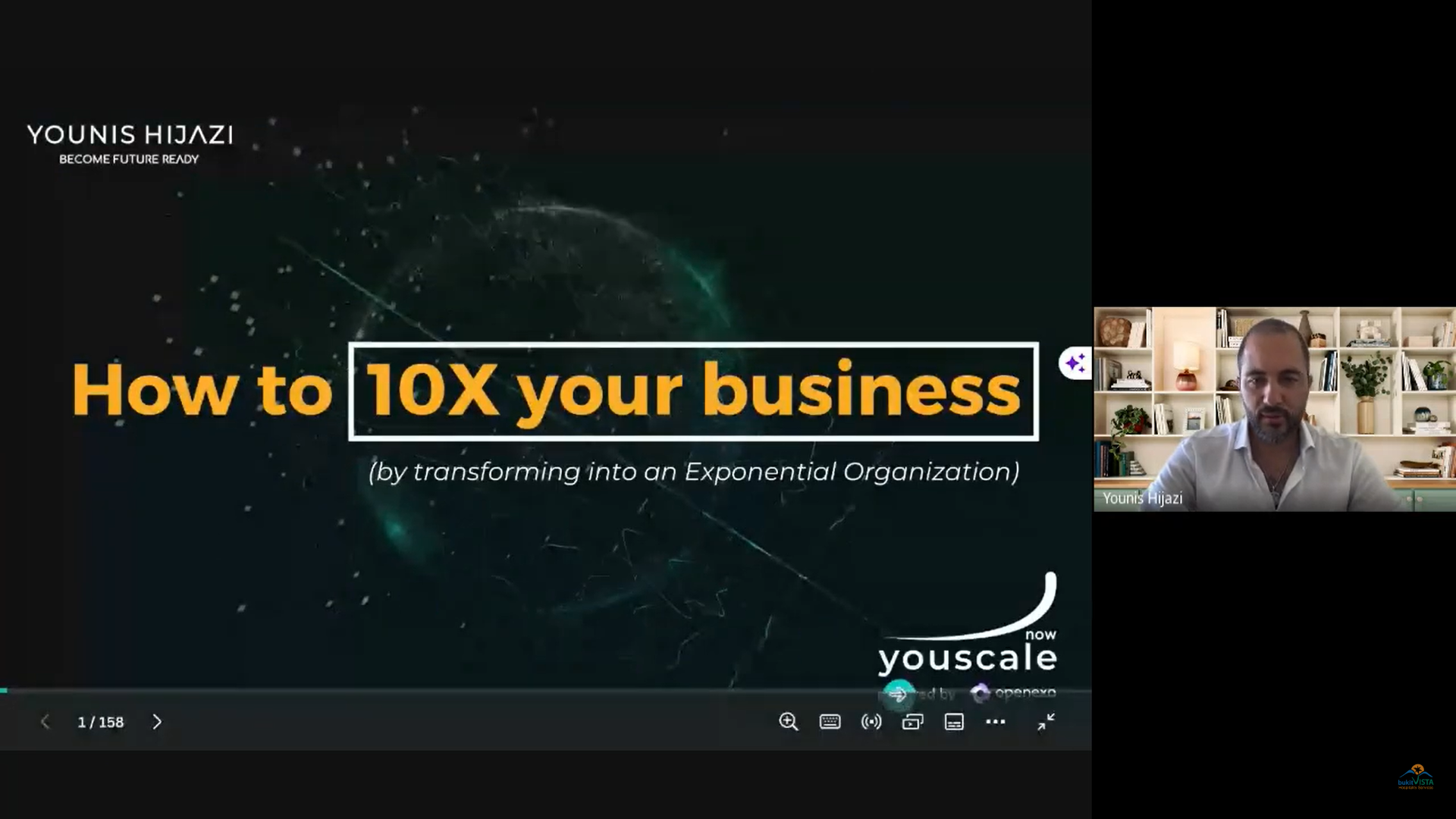 Exceptional Advice for Fostering Organizational Transformation
One of the key takeaways from his talk was the importance of transforming organizations through people. Younis highlighted that, regardless of how advanced the tools or technologies, any transformation ultimately revolves around transforming the viewpoints and actions of people within the business. He proposed the idea of a 10-week program that helps businesses in transitioning from linear to exponential models in order to foster this transformation.
In that program, teams of individuals work collaboratively to optimize existing business models with exponential technologies. These technologies can range from artificial intelligence to robotics and drones, tailored to the specific needs of the company. The goal is to create a symbiotic relationship between humans and technology, allowing each to excel in their respective domains.
Younis illustrated how companies can also explore new business models through "Edge Teams," spin-offs that harness existing resources to reinvent themselves before external disruptions occur. By brainstorming and prototyping, organizations can preemptively adapt to changing market dynamics.
Younis emphasized the value of agile approaches and ongoing experimentation throughout his presentation. He encouraged smaller, more agile experiments that enable businesses to fail quickly and adjust quickly, as opposed to starting massive, high-risk undertakings.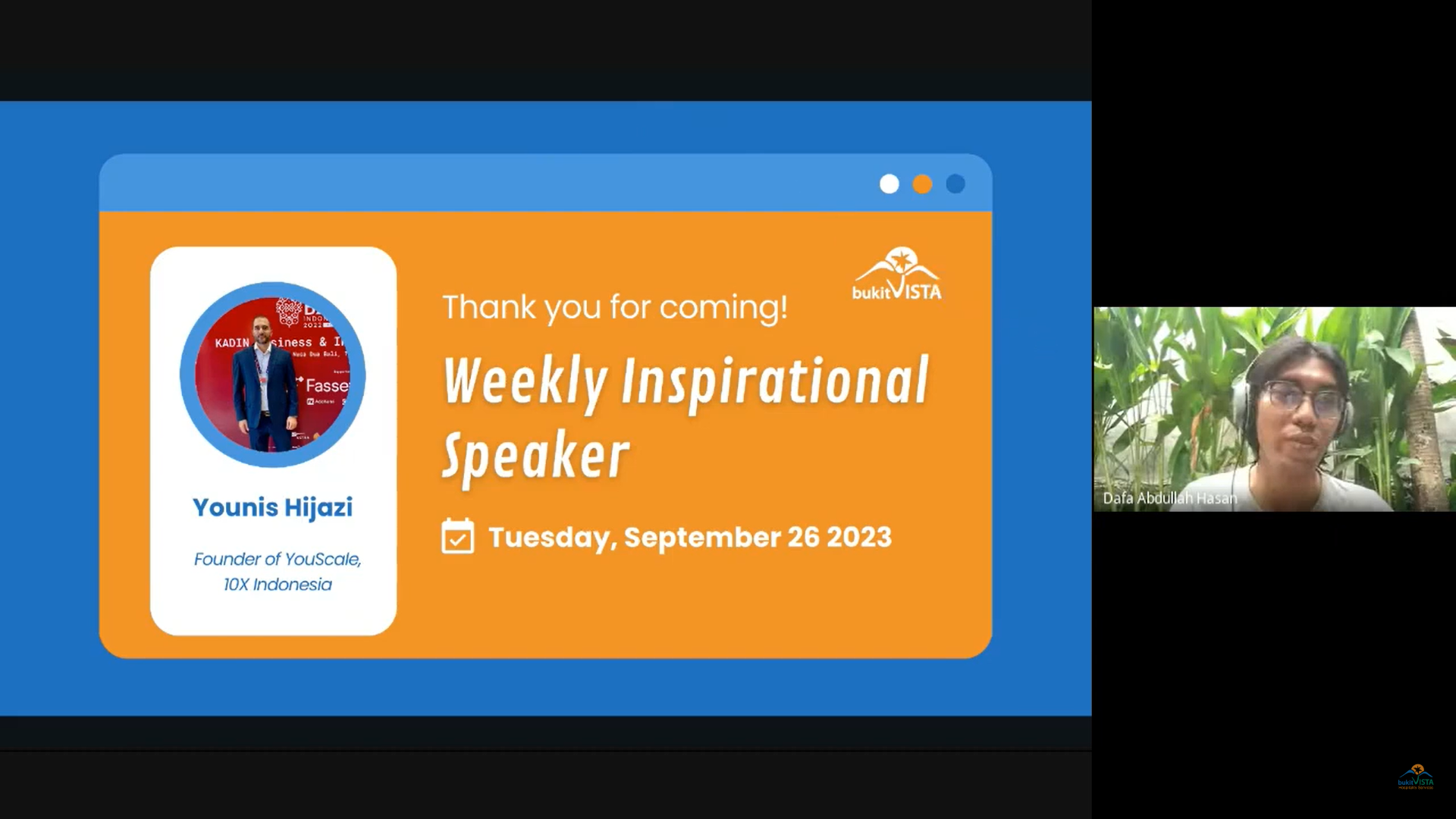 Conclusion
Younis's journey in digital transformation and exponential growth serves as a beacon of inspiration. His approach combines visionary thinking with practical steps, demonstrating that organizations can achieve extraordinary results by embracing technology, transforming their workforce, and remaining adaptable in the face of change.
As we reflect on Younis's insights, we are reminded that the future belongs to those who are willing to embrace digital transformation, empower their teams, and continually innovate. His story encourages us to pursue our own journeys of growth and change, harnessing the power of technology and human potential for a brighter tomorrow.
If you're inspired by Younis's journey and interested in reading more about inspirational figures, visit our All Hands page at https://www.bukitvista.com/all-hands-inspirational-speaker and stay tuned for more inspiring stories from our All Hands meetings.