Bali, Indonesia – October 5, 2023 – Bukit Vista, a leading property management company in Bali, has achieved remarkable success by surpassing its ambitious semester targets earlier than anticipated. The company has maintained steady revenue growth with increased bookings over the past months. And securing a 72% 5-star rating while maintaining a remarkable 4.59/5 overall rating on Airbnb between April 1 and September 30, 2023.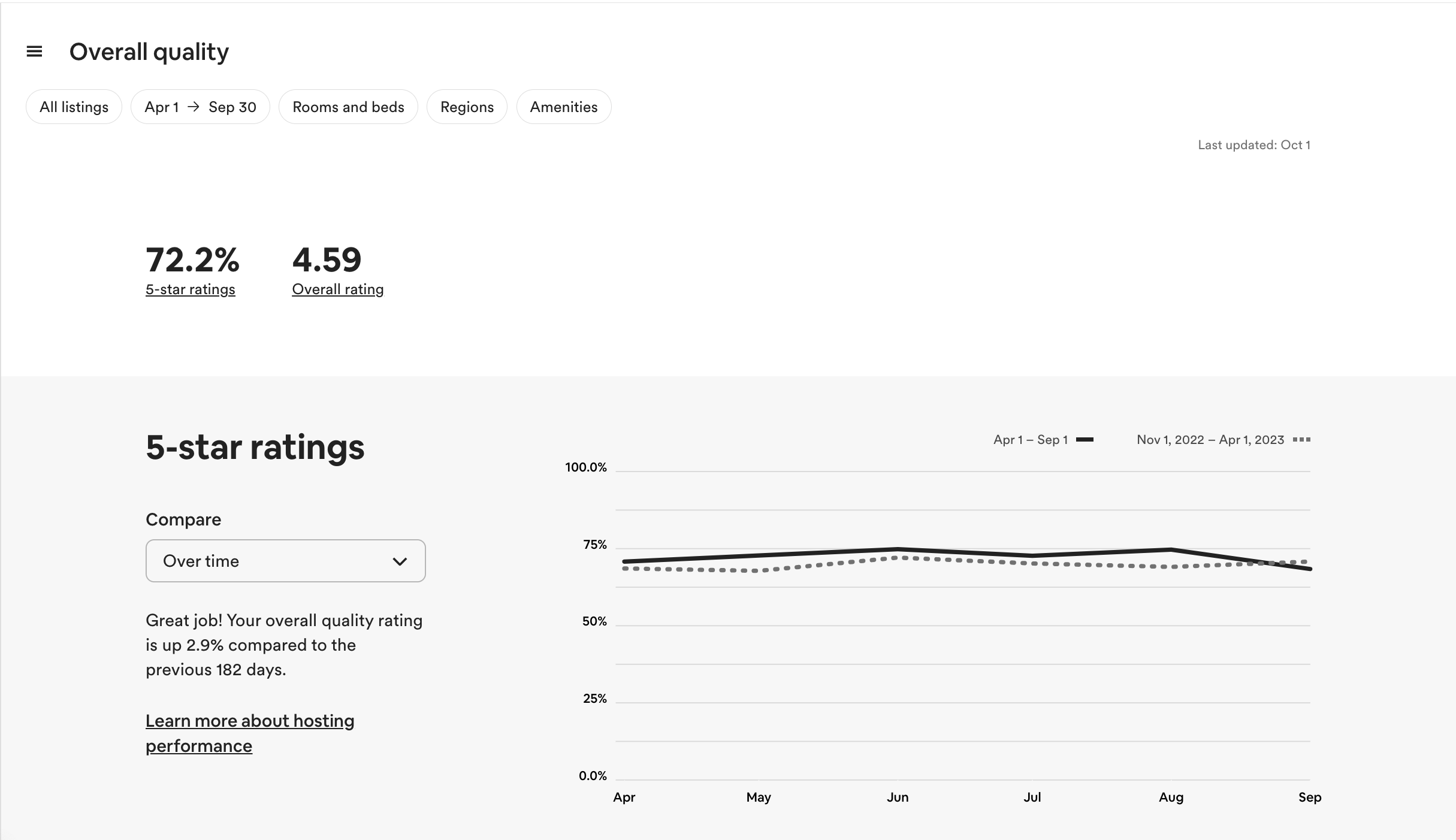 (Airbnb rating)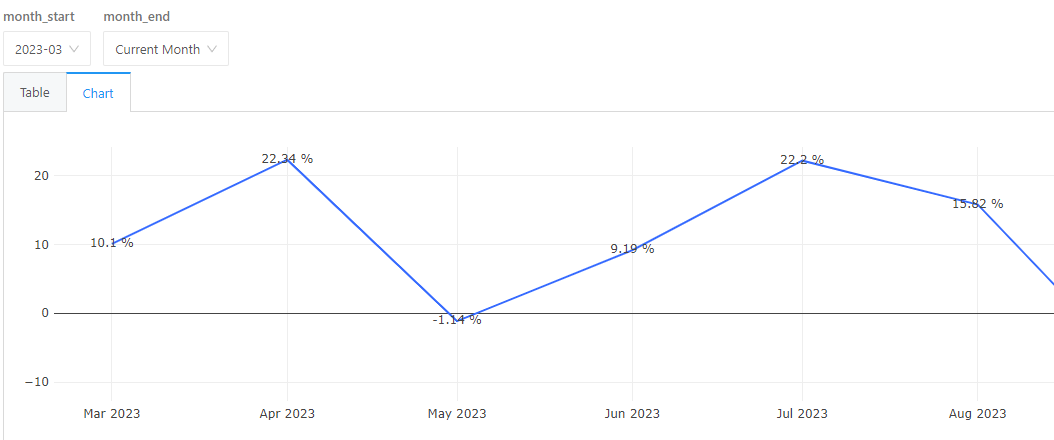 (Month-on-month revenue growth)
Bukit Vista attributes this success to several innovative initiatives, exemplifying their dedication to elevating guest experiences and optimizing operational efficiency:
GAIA (Guest AI Assistant)
GAIA, an acronym for Guest AI Assistant, is a pioneering technology that has revolutionized the way Bukit Vista interacts with guests. The AI-powered tool aids the hosting and reservation team by efficiently addressing guest queries, managing reservations, checking property availability, suggesting alternative accommodations, and streamlining the arrival coordination process. GAIA significantly enhances efficiency and effectiveness within the operation team. Vidi, our Vice President of Engineering, is dedicated to enhancing GAIA's performance. Using new technologies such as vector databases, cuts response time from 5-10 seconds to 1 second.
Grey, our sales and reservation supervisor highlights the invaluable role of GAIA in optimizing our reservation team's performance.
"By leveraging GAIA and tapping into Bukit Vista's AI database, our team can swiftly and accurately address customer questions and inquiries"(Gray). This enhanced responsiveness and increased validity in our interactions significantly bolster our booking conversion rates.
Missed Opportunity Retargeting
Introducing Missed Opportunity Retargeting—an innovative approach empowering our reservation team to connect with a broader audience of potential guests who have previously interacted with Bukit Vista's properties but have yet to complete their bookings. Leveraging the powerful tool Beds24, we meticulously curate a list of these potential guests and align their preferences with our current inventory of available properties for the intended dates. 
Through strategic communication, we proactively reach out to these individuals, presenting them with our latest available accommodations. By doing so, we aim to rekindle their interest and engagement, ultimately leading to a higher conversion rate and enriching their booking experience with Bukit Vista.
Shift Management & Introducing Night Shift
Bukit Vista has enhanced its resource management and talent allocation processes, improving work efficiency and fostering a stable working pace for employees. By effectively balancing workloads and streamlining role assignments, the company can detect and address pain points swiftly, ensuring a smoother operation.
Additionally, our night shift program for the hosting and reservation team aims to boost response speed, positively impacting Airbnb's communication score and guest satisfaction. Despite the predefined online availability from 9 AM to 6 PM, addressing guest complaints during these night shifts ensures enhanced service. Additionally, these shifts will be phased out if GAIA can directly report issues to the owner through BVGO, our property management app, streamlining the process.
Dynamic Pricing – Optimizing Revenue through Dynamic Price
Dynamic Pricing approach revolves around smart decisions and effective revenue optimization. Our Business Intelligence team has dashboards that have been upgraded into powerful tools offering essential insights. Focus is placed on adjusting prices based on key metrics like potential revenue per day and weekly revenue generation. Through the analysis of potential revenue from unsold nights, pricing is tweaked methodically. One major change involves emphasizing the optimization of the base rate instead of relying heavily on last-minute discounts. 
Lilis, Assistant Manager of Business Intelligence, discovered that the fear of underselling due to these last-minute discounts slows down bookings and affects the fill rate has led to the strategic removal of these discounts. This not only eliminates this fear but also balances booking rates effectively.
The dynamic pricing strategy stems from a deep understanding of the market and booking patterns. Precise rankings for each property are maintained, allowing for strong competition in both slow and busy seasons. 
There is also a prioritization of optimizing unsold nights, ensuring every opportunity is seized to increase revenue. These data-driven strategies and ongoing market analysis have finely tuned the dynamic pricing approach to meet revenue goals and market demands. These insights guide through the complexities of pricing dynamics, ensuring the best outcomes for properties as delivered by 
Bella, VP of Business Intelligence.
ATLAS – Dynamic Pricing Innovation
ATLAS, Bukit Vista's cutting-edge dynamic pricing innovation, stands as a testament to the company's forward-thinking strategy. With a recent transition to a purpose-built dashboard, replacing traditional sheets, this transformation ensures seamless management and real-time insights. 
Felix, Senior Data Scientist Engineer, also delivers that the integration of advanced machine learning models and model explainers enhances transparency. Now, when users select a row, they instantly receive detailed explanations of ML model decisions, accompanied by visualizations illuminating the rationale behind each choice. By eliminating names and adopting unique IDs, the system prevents data mix-ups, ensuring precise decision-making.
 This upgrade not only accelerates the feedback loop for Model Development but also offers a much faster, lag-free experience, especially as data scales. The overhaul not only streamlines ATLAS's backend but also addresses core issues, making it more efficient and user-friendly.
Guest Inspire Delight
Our dedication to inspiring delight in every guest experience starts from the very first encounter. Welcoming our first guest is a moment of genuine joy, marking the beginning of a journey filled with warmth and care. We believe in the power of small gestures, continuously offering cheerful surprises to our guests. Whether it's a personalized welcome note, a delightful treat waiting in their room, or unexpected perks tailored to their preferences, we strive to create moments that leave a lasting impression.


By consistently going the extra mile, we aim not just to meet but to exceed our guests' expectations, making their stay truly memorable and inspiring delight in every moment of their stay with us. This commitment not only brings smiles to our guests' faces but also translates into glowing reviews, showcasing our dedication to creating exceptional experiences.
Guest Portal
Our commitment to exceptional guest service introduces an advancement in guest experience with the launch of the Bukit Vista Guest Portal. This exclusive website is designed to cater to our cherished guests, providing a seamless and personalized booking journey.
The Bukit Vista Guest Portal serves as a centralized hub, offering guests the ability to monitor and manage their bookings conveniently. One of its standout features is the real-time arrival notification system, ensuring guests are informed of their scheduled arrival time and enabling our hosting team to prepare accommodations efficiently.
In addition to streamlined communication, the portal extends a range of convenient services that guests can effortlessly request to enhance their stay:
Airport Pickup Service:

 Experience the convenience of a pre-arranged airport pickup and drop-off, seamlessly transporting guests to and from their destination and property.

Car Pickup Service:

 Enjoy the comfort and convenience of our pre-booked car service that transports you to and from your desired destinations.

Boat Ticket Booking:

 Easily pre-book your boat tickets and make payment at the time of boarding for a hassle-free experience.

Chef Request Service:

 Indulge in our exceptional service that allows you to book a skilled chef who will prepare delicious meals at your property.

Guest Review Management
Our engineering team is streamlining review management by analyzing and summarizing guest reviews through a channel on Slack. This process saves significant time previously spent sifting through numerous review pages. By promptly addressing negative reviews and learning from guest feedback, we aim to minimize future occurrences of negative reviews in upcoming bookings.
We've also developed Auto Review Reply tools that help the Public Relations team to answer incoming feedback & manage the reviews to be points of improvement.
Property Quality Control
At Bukit Vista, our commitment to exceptional guest experiences goes hand in hand with stringent quality control measures. We meticulously set guest expectations by aligning the descriptions of amenities, facilities, and the property environment on OTA listings with the actual conditions, enabling us to conduct thorough evaluations and implement necessary improvements.
"Collaborating closely with vendors, we swiftly address any issues that arise, ensuring a seamless experience for our guests", said Tendi, our Property Manager.
To facilitate our quality control efforts, we create detailed Inspection and Improvement lists, presenting them in a comprehensible timeline deck for our partners. We also prioritize educating our partners, providing them with clear insights into the benefits of enhancing their properties, areas for enhancement, addressing potential issues that could lead to guest complaints in the future, the potential costs of subpar quality, and simple yet effective methods for improvement.
It all can be done smoothly through strategic resource planning, by managing resources and prioritizing tasks from Strategic Points of Improvements and Quality Enhancement Support List that concluded from the reviews. Kayla, our Assistant Manager of Operations says that these things allow us to anticipate challenges and preemptively resolve issues, ensuring that our properties are always at their best.
Leading Property Quality Under Management
The quality of our properties and the consistent stability of new additions each month play a pivotal role in achieving our revenue targets. Each property we onboard undergoes meticulous evaluation to ensure it meets our high standards. By maintaining this commitment to quality, we not only enhance guest satisfaction but also build a reputation for reliability and excellence.
 Erica and Mahesi, Bukit Vista's Business Development Specialist said, "The stability in our influx of new properties signifies a steady growth, allowing us to diversify our offerings and cater to a broader audience. We meticulously ensure their quality through rigorous property testing before the first guests check-in, guaranteeing that every aspect meets our high standards." 

"This careful evaluation process not only enhances guest satisfaction but also strengthens our reputation in the market", addressed by Marcel, VP of Operations at Bukit Vista. By maintaining this level of excellence, we continue to meet our revenue goals and provide exceptional experiences to our guests, ensuring their loyalty and positive reviews. This strategic approach not only boosts our revenue but also strengthens our position in the market, enabling us to provide exceptional experiences to our guests while meeting our financial goals effectively.
Round Table Talk Program
The Round Table Talk Program
stands as a testament to Bukit Vista's commitment to fostering a collaborative and informed hospitality community. This community engagement initiative brings together property owners, development companies, contractors, property staff, real estate professionals, guests, government representatives, and other stakeholders involved in the property and hospitality industry. Through casual discussions and shared experiences, participants explore business challenges, innovative solutions, and the latest industry advancements while enjoying relaxed meals.
Continuously Spreading Knowledge from External and Internal Company
We consistently curate valuable articles by harnessing insights from esteemed speakers featured in events like All Hands Weekly Inspirational Speaker, Round Table Talk, BV – E Talk, and more. "By amalgamating these insights with cutting-edge AI technology, we ensure our content production is not only efficient but also highly impactful." said Ghani, Vice President of Marketing. This strategic fusion of human wisdom and artificial intelligence allows us to create compelling narratives that resonate effectively with our readers. 
Through these endeavors, we aim to bring forth meaningful stories, innovative ideas, and actionable insights, enriching the experiences of our audience while staying at the forefront of digital storytelling. This effort is pivotal in enhancing our brand value by spreading awareness across all three key funnels: guests, partners, and employees, fostering a stronger connection with our audience and stakeholders.
Semester Bonus & Bonus Cap
At Bukit Vista, we recognize the importance of providing fair and inspiring incentives to our employees who achieve their targets. Therefore, we have introduced the Bonus Cap and Semester Bonus programs specifically designed to provide an extra boost to our team. The Bonus Cap program offers our employees the opportunity to earn an additional bonus when they significantly exceed their targets. Meanwhile, the Semester Bonus acknowledges and rewards the team members who consistently meet and exceed performance standards throughout the six-month period.
Conclusion 
Through these programs, we not only provide financial rewards to our high-achieving employees but also offer them additional motivation to hone their skills and reach their personal and professional goals. We believe that this investment in the well-being and motivation of our employees not only results in a more productive team but also creates a positive and supportive work environment at Bukit Vista.
In conclusion, Bukit Vista remains steadfast in its commitment to devising innovative ways to inspire delight. The company's vision to "Inspire delight to Everyone – Everywhere – Every time" guides our journey, positively transforming guests, employees, and partners.
For media inquiries, please contact:
Public Relations Specialist, Bukit Vista